Have you heard about security awareness games for employees?
Do you ever feel like large-scale security awareness solutions are a little unwieldy?! Cue Security Feud: a brand-new, FREE resource for those looking to dip their toes into security awareness gamification! Security Feud is a fun, manageable step toward immersive learning, available now for October Cyber Security month. We crowdsourced 19 cyber security-themed questions to create this awesome resource just for you!
TO GET STARTED:
Security Feud is a PowerPoint Presentation with lots of animation. It is best to display the game on another screen so you can see the slide notes. The correct answers and their locations are in those notes. If you can not present on another screen, print the presentation with notes.

We recommended you play three rounds at a time so there are Introduction Slides every three rounds.

Each round will start with this slide: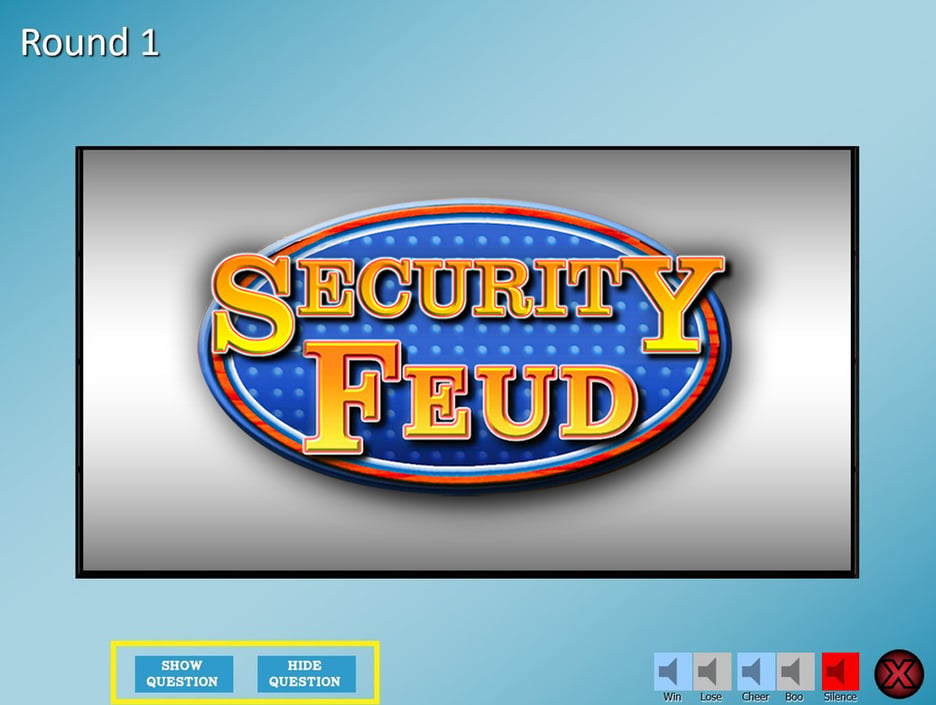 Click

Show Question

to read the question, then

Hide Question

when you're done.

The game board will then be displayed.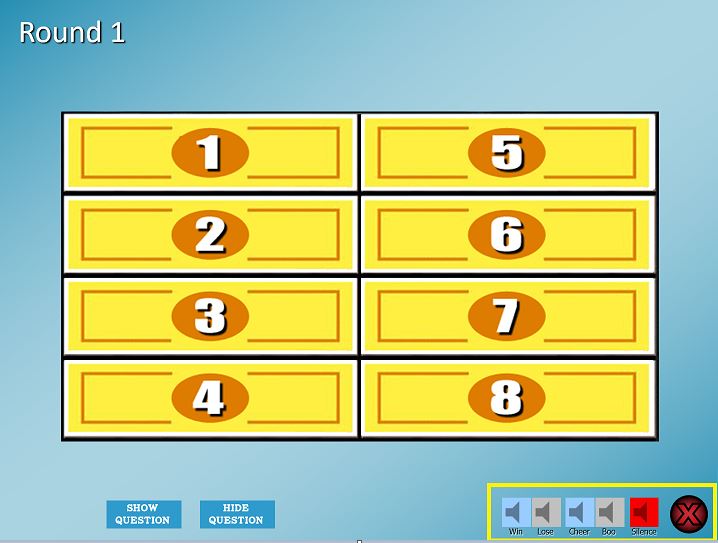 The slots are numbered 1 - 8. If there are less than eight answers, you will see black slots with no number.

Click the corresponding slot when a person gives a correct answer.

Click the

X

in the bottom right hand corner when an incorrect answer is given.

Note the audience sound controls are in the right hand corner as well.

The game will not keep score for you.
Print Score Sheet!

Ready to Play?
Divide into two teams.

One member of each team faces the other in a face-off as you read the question off the screen.

The team that buzzed in with the correct answer receives control of the board and has the option of playing or passing control to the other team.

The team that has the control tries to reveal all of the correct answers to the question before receiving three strikes.

If the team receives three strikes without clearing the board, control is passed to the other team and no points are awarded for this round…. Yet.

The team that now has the control is able to give one answer in the hopes that it is found on the board.

If it is, points for all answers revealed are added to the team's score.
If not, the other team gets all of the points for the revealed answers.

Points are collected as each team finds its answers to the question on the board.

Continue the game repeating steps two through seven.

Each team tries to collect the most points. The team with the most points wins the game!
Interested in learning more about what we do at Living Security?
This work is licensed under a Creative Commons Attribution-NonCommercial-Share Alike 4.0 International License.
Have fun! And good luck...