An Analytical Approach to Human Risk Management
What if you could identify the riskiest 5% of people across your workforce? What would you do differently than you are today to prevent incidents? With Unify Insights, you have real-time data at your fingertips to quantify your riskiest and most vigilant employees.
Identify Human Risk
Unify Insights' dashboards and reports shine a light on where your security weaknesses are, right now. Easily view your riskiest individuals, groups, or role types and see what behaviors might be concerning–and which are positive.
Correlated Data
Data from across your information security technology stack is aggregated then correlated to tell a story that siloed platforms can't, driving insights you can take action on. Bringing more value to your current investments.
Take Action
Action Plans are created to address your highest risk segments and behaviors. With this knowledge, security leaders can tailor programs for specific groups and up-level their security awareness and improve their risk profile. Ultimately lowering the overall organization's risk.
Report Results
Create business alignment with insights and data. Show your Executive and Board-level stakeholders the trends and improvements for the whole organization or a leader's group without manual data crunching.
Teams-based Training
Experience unique, teams-based security training like you've never seen before. Gamified modules engage everyone on your team as they work together to solve our puzzles and escape before the clock runs out.
Phishing Focus
Get customizable content and real-world simulations with our enterprise-based platform focused on your number one cybersecurity threat, phishing attacks.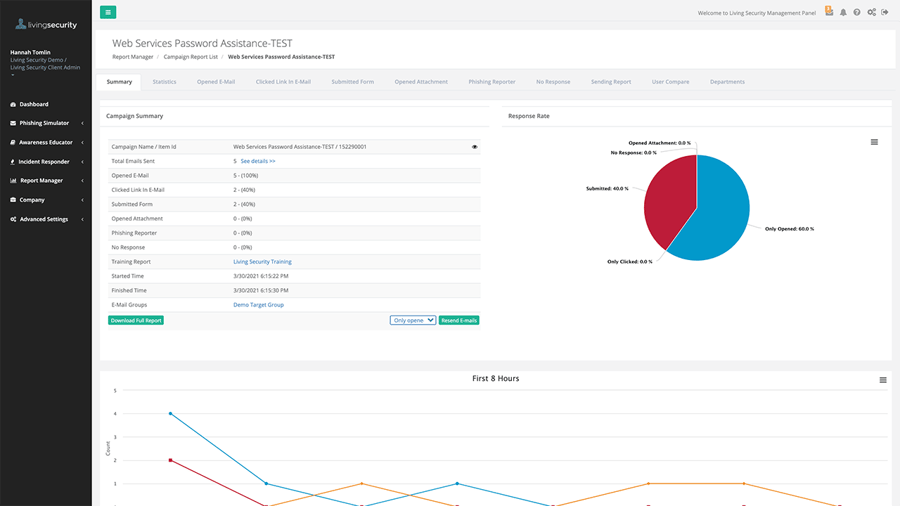 Trusted by Organizations Across the World