What is an Escape Room? A Cyber Escape Room?
The Case for a Cyber Escape Room: A Proven Investment that Changes the Game
A traditional escape room is a semi-permanent, game-based (entertainment) experience designed for people to solve their way out of an enclosed space.
A cyber escape room, on the other hand, is a mobile, game-based (learning) experience designed for people to 'secure' their way out of an enclosed space (e.g. conference room).
The participants are never 'locked in.' Rather participants become a voluntary captive audience to experience cybersecurity through direct, hands-on application instead of through indirect material (read: death-by-powerpoint).
Why an Escape Room?
Traditional training materials have failed to make an impact. Skyrocketing costs (e.g. monetary, reputational) of human risk to businesses and agencies speak volumes to this failed strategy. Program owners must reimagine security awareness for real people or face the reality that complacency will lead to breach.
We grow up playing games, making new friends, competing in sports and academia, challenging ourselves to achieve, and so on. But somewhere along the way, we are made to believe that we learn best by sitting idly by and learning various subjects through lecture and theory. The disconnect between theory and everyday life cannot be overstated: the gap is horribly destructive and impractical.
The net result is that caring people (like our employees!) lack the fundamental situational awareness necessary to address the security challenges they face in real life.
Enter Escape Rooms, Stage Left
Escape rooms reverse the negative trend of people-bashing, corporate shaming and security theater. By immersing people in a team-based, hands-on environment with practical advice for real life, escape rooms literally change the game. They reduce human risk through intuitive knowledge transfer and custom content. They kickstart positive security culture change across the enterprise. They equip people with practical tools for everyday life. They make security awareness programs (and program owners) look like champions instead of police officers. They facilitate new relationships, team-building opportunities and healthy competition. And so much more.
Security training is at risk of being lost in translation because of bad design NOT lack of interest.
Finding an activity which leads to high-fives in the name of cybersecurity is great design (and a giant leap in the right direction). And with the right training, your "weakest links" become security champions, intelligent sensors and some of the strongest links in the chain.
Why the Living Security Escape Room
Living Security provides the most comprehensive, immersive cybersecurity escape room available anywhere. The blood, sweat and tears put in to perfect the experience has produced the kind of experience that rocks the boat and keeps people talking about cybersecurity for weeks and months after the event.
But don't just take our word for it. Here are a few testimonials from Fortune 500, Defense Agencies and SMBs that speak for us:
There's more where that came from (just check out our LinkedIN or ask us for private referrals). These reviews are our badge of honor. And we will not stop trying to create the world's finest security awareness experience possible.
What goes into a Living Security Escape Room?
The short answer? A lot of love!
At Living Security headquarters in Austin, TX, we hand-craft and assemble all the props before shipping them around the world in hard-shell travel cases.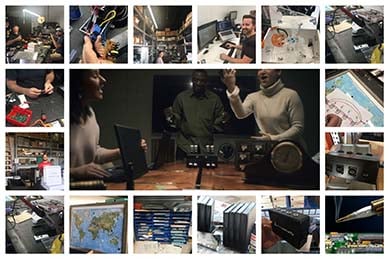 But let's back up.
First, we spend hundreds of hours designing and optimizing each escape room. Here are some fast facts from our best-selling room, SecureIT!...
90 hours of design
50 hours of engineering (custom digital puzzles and phone-based text puzzles)
80 hours to design content and create integrated training objectives, storyline, intro, debriefing and graphics
250 discrete items (e.g. physical props, soft materials, game pieces)
16 hours of build (per room)
40 hours to create marketing materials (for clients to use and customize, per room)
10 hours of packaging/distribution/shipping/travel
Around the clock client ops support
Over 2,500+ total runs of this room in 2 years
5+ Retention quizzes, surveys and follow-ups (per room)
With all of this effort, we've essentially created an all-inclusive, turn-key experience that will get employees from drooling in their cubes to chanting team names through corporate hallways in 30 minutes. Seriously.

What's the Cost to Do it Myself?
We applaud the program owner working on a shoestring budget to bring an escape room to life. We were there, too! Our Chief Security Officer, Drew Rose, created an escape room for American Campus Communities (ACC) that was an absolutely hit with employees before he founded Living Security. Our Dir. of Intelligence & Content, Graham Westbrook, developed one of the first escape rooms in healthcare and brought it to 15 hospitals across PA and NJ before speaking on the topic at SANS Security Awareness Summit 2017 in Nashville.
So... we know how hard it is to pull it off and we believe in you if you want to invest in such an endeavor.
However, we also have learned A LOT from the mistakes we made working our way up and we want to help you avoid those same pitfalls. We remember the time, risk, expectations, dedication and stress it took to make magic happen. And we recognize the importance of doing things right the first time or missing out on a shot to inspire. So we humbly offer our hand in partnership to help you through the challenges and into the light of success!
Conclusion
The point is, we care. We really do.
And we have experienced so many thousands of times the positive security culture change that happens following a successful escape room engagement. The word of mouth from participants is like wildfire across the enterprise.
We believe every smile is a metric. Every embrace is a memory. And we hope you see that with by trusting us with your employees, we will help you change the face of cybersecurity for years to come.