Changing the future of security is about changing culture. It's about changing the conversation, changing how we think about risk, vulnerability—and most importantly—people.
Living Security has recently been recognized as an industry leader in the Forrester Wave Security Awareness and Training Solutions 2022 report, and it's within that report we see how important that culture change truly is.
As Jinan Budge, Principal Analyst with Forrester says, "We need Security Awareness & Training to not just train people for the sake of training them—behavior and culture change have moved beyond being performative to fostering real action." At Living Security, we couldn't agree more. But what does this mean?
The Forrester Wave report identified that Security Awareness & Training is an arena that's ripe for disruption. This means more than just updating software, enhancing automated defenses, and hoping for the best. It means changing the way we think about security awareness right at its most vulnerable point: the people. Change behavior from reactive clean-up to proactive defense, and you can change security in a big way.
In changing this culture, we believe that the category should really be called Human Risk Management.
What the Data is Saying
When it comes to security training, most CISOs we speak to share the same concerns: They feel like they just don't have the time, or the trust in individual employees, to train them. They invest in technology solutions that offer a blanket annual program, get the training box checked, and spend their limited energy on addressing incidents as they occur. We get it; there's only so many hours in the day, and you have to make the choice to focus on what you feel is going to be the biggest problem.
But CISOs who are willing to roll up their sleeves to make this culture shift happen need a way to identify risk before incidents happen. They need to see trends in real time and to tailor their cybersecurity training program to individuals who may need it most. Moreover, they need to be able to empower individual employees with the right security awareness information based on their individual levels of knowledge without taking them out of their actual jobs. All of this is what Living Security Unify Insights offers.
Unify Insights presents a single place where CISOs can view how their technology and people are performing, behaving, and responding to threats as they happen. Unify allows CISOs to:
Filter down to the riskiest individuals, groups, or roles.
Create tailored programs that respond to risk and address the issues at hand.
Improve your risk scores and up-level security awareness.
Track increased vigilant behaviors, and decreased risky ones, over time.
Demonstrate improvement across the organization quickly and easily to stakeholders without a ton of manual data-crunching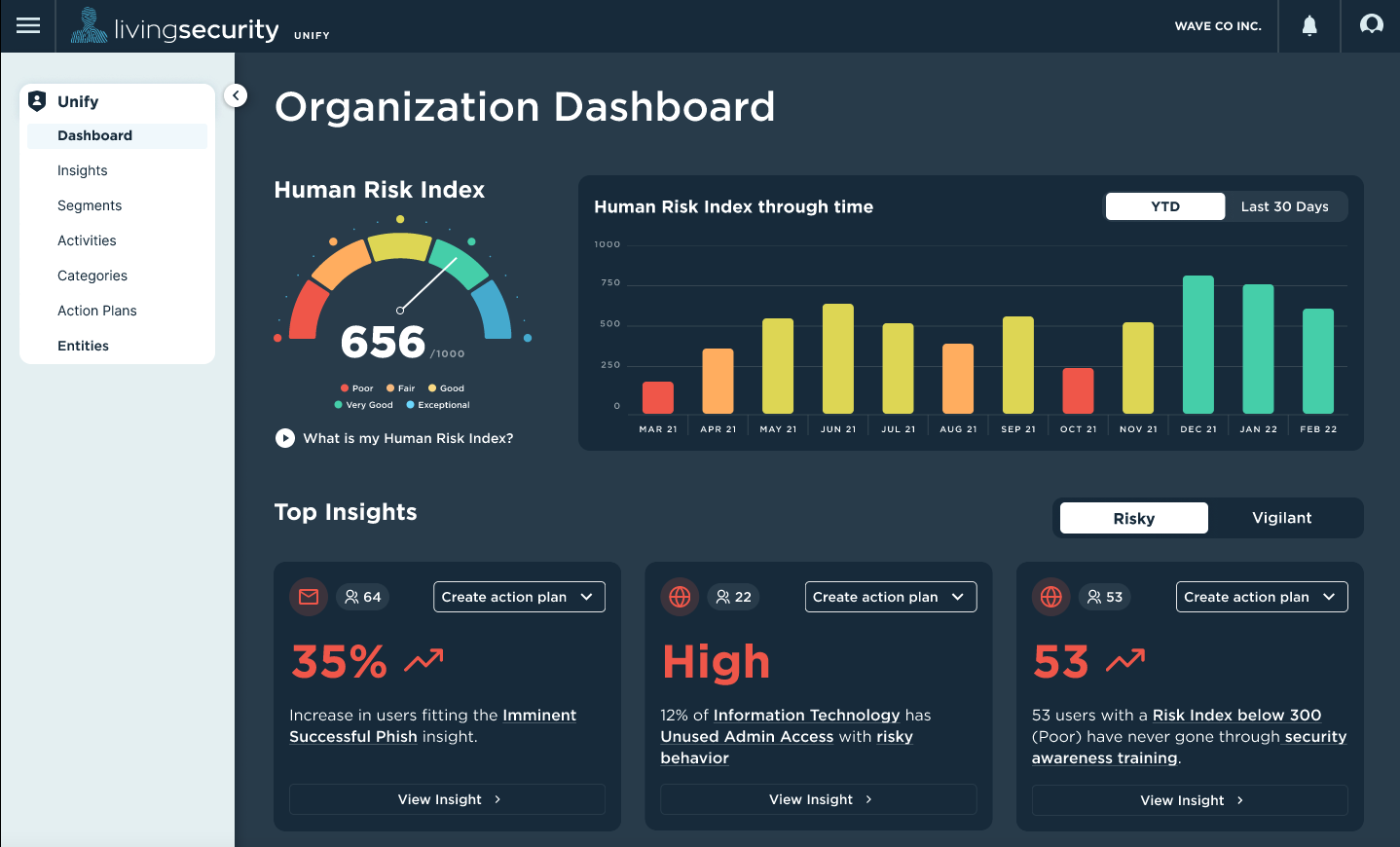 Go Beyond Good Enough
'Good enough' has brought you this far. We think it's time to go further.
Understanding human behavior means gaining a better understanding of human vulnerability—and the potential that comes from human vigilance. Getting employees engaged and excited about security training isn't some pie-in-the-sky dream, it's what we do. Living Security provides training that's fun and enjoyable, presented in entertaining formats that engage and spark curiosity. Through storytelling—whether it's a special-ops mission or a late-night show format—employees do more than just check boxes and punch the clock. They learn. They get invested. They get involved. And, with the right training, they become your greatest asset, rather than your biggest weakness.
Living Security is on the front lines of Human Risk Management. We're proud to say that we're changing the conversation, one company, one employee, at a time. Learn more about Unify Insights and schedule time with our team here.