Once you've selected to plan a new Campaign, you will enter a new screen to begin planning the Audience, Timeline, Content, and Notifications. You will also be able to add a Campaign description.
Audience: To start, select the group of end-users, also known as an Audience, you would like to receive the Campaign you are building. You can select whether the audience is dynamic or static, and then use the dropdown to select the specific group of users.

A static campaign only grants access to the users in the selected audience when the campaign was launched. If new users get added to the audience at a later date, they will not be enrolled in the campaign.
A dynamic campaign automatically enrolls new users added to the selected audience of the campaign.

Assign Past Content: You will also need to decide whether to assign missed content to a user that joins in the middle of your campaign with the toggle: Assign Past Content.
Note - if a person is not assigned past content, they will not be able to earn the same amount of leaderboard points.


Timeline: As you plan Content, this timeline will show you on what day of the Campaign Content will be released, reminders will be sent, and due dates. You have the choice to plan your campaign with Relative Dates or Specific Dates.


With a Relative Dates campaign, you will plan the timeline through day count. For instance, if you want the Campaign to start on January 1st, and the current date is December 1st, you will need to insert 30 in the "Assign Day" field. Your timeline will show the day count between each delivery of content or notifications.

With a Specific Dates campaign, you will plan your timeline by selecting a specific date on the calendar. By default, it will select today's date when you switch to specific dates. However, you will be able to preselect a date in the feature and all other configurations will update accordingly.



Once you have created a Content Block of content, you can click on the Assign Date to open the Calendar for when you want that Training Block to be delivered. The timeline will also be updated to show the specific date of execution. Read the step below on how to add Content Blocks.


Content Block: To add a Content Block, click on the (+) next to Add Content.

A Content Block can consist of either Content or a Custom Notification. You can add as many Content Blocks to a Campaign as needed.



Training Content: Within a Content block, select the desired content in the Content field, as well as, the Training Type (Mandatory vs. Optional). From here you can also configure Content Block(s) Due Date, Training Notifications, and a minimum passing grade. As you add Training on the right, you will see the Timeline on the left update.



To easily view all Content Blocks you have created, click on Collapse All.
Add Assignment Notifications: You can schedule three types of training notifications associated to the training assignment:


Assignment Notification
Approaching Due Date
Past Due Date

You can customize these in the Notifications area. Toggle between My Collection and Living Security Catalog to either use our standard notifications or to select your customized notifications.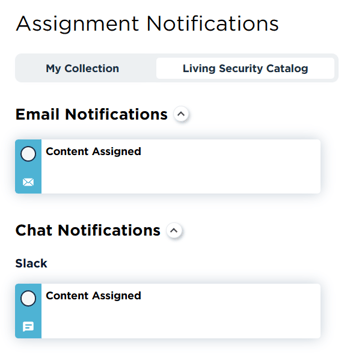 Please note, if a Content Block is empty, and you try to launch a Campaign, you will get an error message. Please make sure all Content Block(s) have been set up correctly and delete any empty Content Block(s) before launching a Campaign.
If you have any additional questions, contact us!
Click here to download our Training Campaign Checklist
---
Learn more about the Campaign Builder:
Training Platform - Campaign Builder Video Course
Training Platform - Test Campaigns
Training Platform - What do the Green Dots v Red Dots on Timeline within campaign builder represent?
Training Platform - Campaign Use Cases Overview