With Manager Summary Emails turned on, Managers will receive a report of direct reports that have received Due Date Approaching and Past Due assignment notifications.
Manager Summary Email Setup:
Turn on Manager Email Notifications
For a refresher on how to turn on Manager Email Notifications, check out our How do I turn on Managers' Notifications for Training? article.
Make sure your users have a Manager Email attribute assigned.
Click on the settings toggle in the upper right corner and click on User Management.



In Columns, add a check box next to Manager Email and scroll through your users to ensure that each user has a manager email associated. The Manager must also exist as a User in User Management.
⛔ Please Note: If there is no manager email for a user or if the manager is not in the Training Platform as a user, the Manager Summary Email will not send anything even if it is enabled.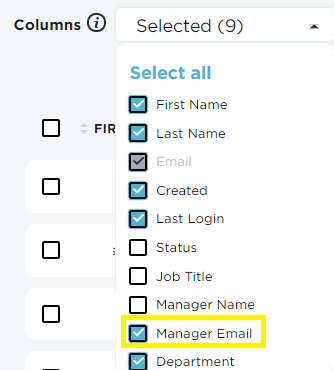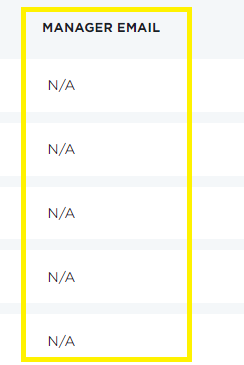 If you use SCIM or JiT for User Provisioning, you will not be able to manually edit attributes since they are pulled and synced through mapping.
📝 When building your campaign, be sure to add assignment notifications for each content block.
Configuration Options
⚙️ The frequency in which Manager Summary Emails will be sent can be set to every day, once a week, or once a month. If once a week has been selected, you are able to choose which day of the week the email should be sent. If monthly has been selected, you will be able to choose which week and which day of the week the email should be sent.
The summary will include direct reports that received a notification email during that selected time period
If no direct report has received a notification email for the frequency set, no summary email will be sent to the manager.
🚫 Campaigns can be selected to be excluded from Manager Summary Emails.
✏️ Manager Summary Emails can be customized in the "Custom Notifications" tab of the Configurations screen. Check out our How To Create Custom Email Notifications article for more information.
💾 Please Note: Don't forget to save changes made in the "Campaigns" tab of the Configurations screen before selecting to edit Manager Email templates!
What is included in the email?
The manager will receive an email with hyperlinks to one or two reports:
Direct reports that received Due Date Approaching notifications
Direct reports that received Past Due notifications
If direct reports did not receive either of these notifications, the email is not sent
If direct reports received only Past Due notifications, there will only be hyperlink for that report
Each report will contain:
First Name
Last Name
Email Address
Campaign Name
Assignments
Training Type (Optional vs Mandatory)
Due Date
Sent on Date
Please note: the CSV download that is hyperlinked will expire after 7 days.
Here is a snapshot of the sample CSV file that was hyperlinked in the Manager Summary Email:


As shown in the CSV file, if a user is in more than one Campaign, you will see multiple rows with the same user but different Campaign Name, Assignments, and even Training Type and Due Dates.
---
Best Practices
If you would like managers to intervene to help end users complete their training, set the frequency to DAILY.
If you would like managers to have on overall view of who complete on time or were past due, set to weekly or monthly

Check out our What do new Training email notifications look like for users? and How do I remove Training notifications in Campaigns? articles that we think can also be useful.
If you have any additional questions, please don't hesitate to Contact Us!