What is the Slack Integration?
Emails can often get overlooked. With the Slack integration, you can now deliver Living Security Training notifications through the Slack Platform.
If you are still needing to enable the Slack integration, please visit our article Slack Integration Setup.
Please note: The Slack integration is currently in Beta! If interested, please reach out to your Client Success Manager!
Enabling Slack Notifications for a Campaign
After installation, the Training Platform can send Slack notifications to participants about their assigned security awareness training,
These notifications will tell the participant when training has been assigned, when a due date is approaching, or when their training is past due.
To add a Slack notification to a Campaign, you will click the plus sign on one of the three available notifications while in Campaign Builder: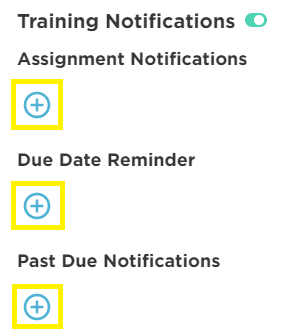 Next, select the Slack option under Chat Notifications.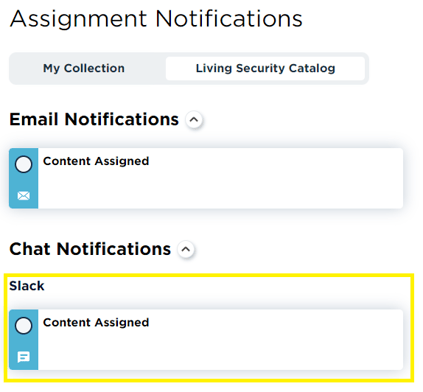 Repeat this step for the Due Date Reminder and the Past Due Notifications.
💡 You can use an Email and a Slack notification to be delivered simultaneously. Email and Chat notifications are distinguishable by their icon.


Once a Campaign has been launched, and Slack notifications have been enables, the participants in the Campaign will receive those notifications though Slack on the day they execute.
The notification will include a brief message, the due date, and a button to be taken to the Living Security Training Dashboard to start the assignment!
Training Assigned Notification Example: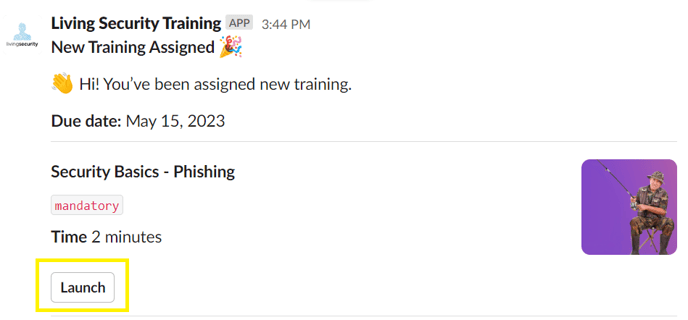 If you are needing help creating a Campaign, visit our article Campaign Builder Overview.
If you have any additional questions, feel free to contact us!