How do I get to the Content Catalog in the Training Platform?
Under the Campaigns menu on the left panel, you will be able to click on the Catalog tab to preview, favorite, or personalize content. While in the Catalog, Content will be broken into two folders:
Living Security Catalog: Read only versions of the Content with the default Content Definitions
My Collection: Favorited Content from the Living Security Catalog that can be customized and edited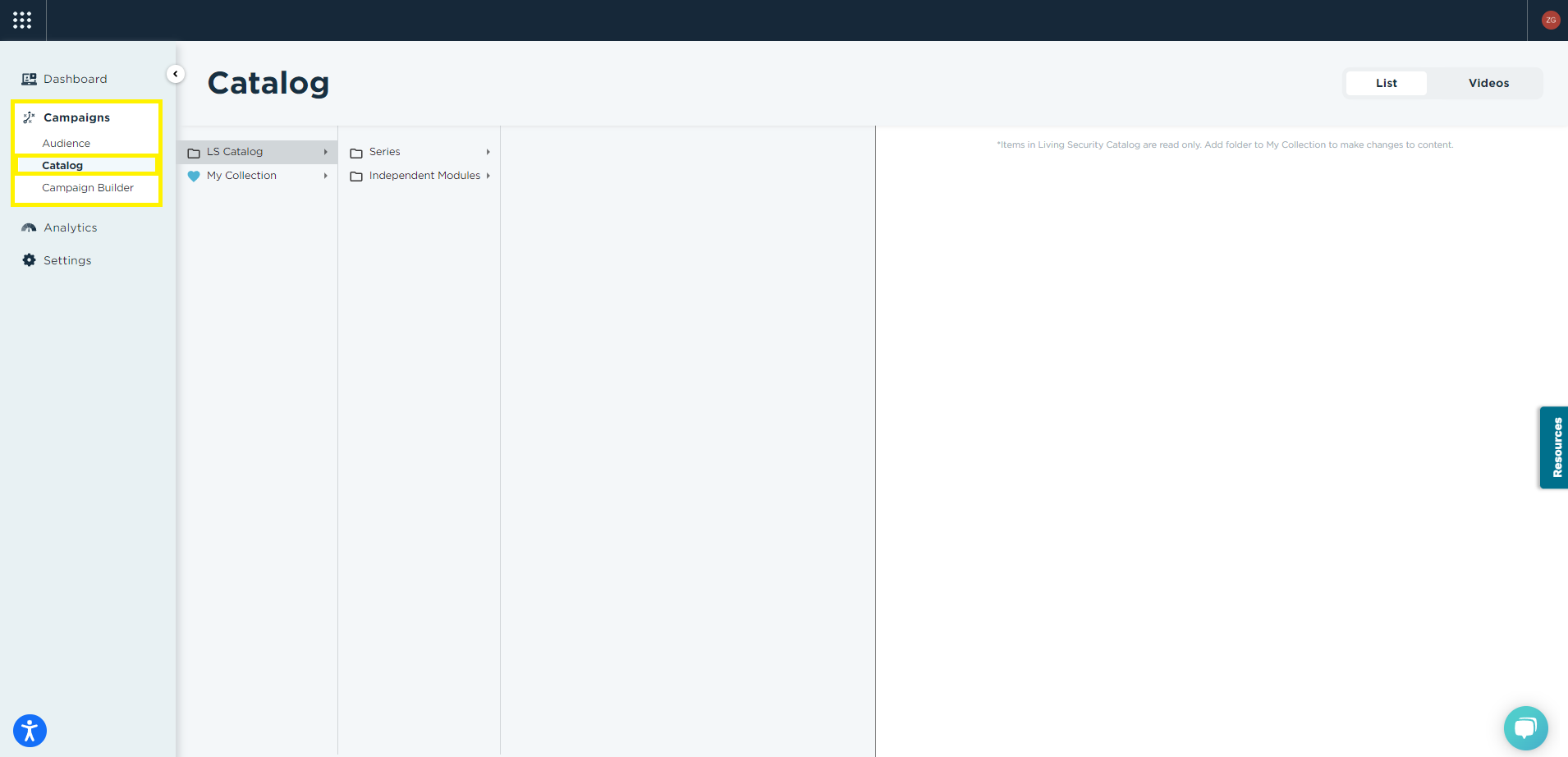 In the Catalog there are three types of Content:
Series: 20-40 minute long Training Series
Independent Modules: 1-5 minute long Training Modules
Campaign Templates: Prebuilt campaigns

How do I preview Content from the Catalog?
The quickest way to preview Content is to travel to the Catalog on the left side of the Admin Navigation of the Training site as detailed below:
Go to the Catalog tab
Click on the "List" or "Videos" tab.
Click on a piece of content you would like to preview.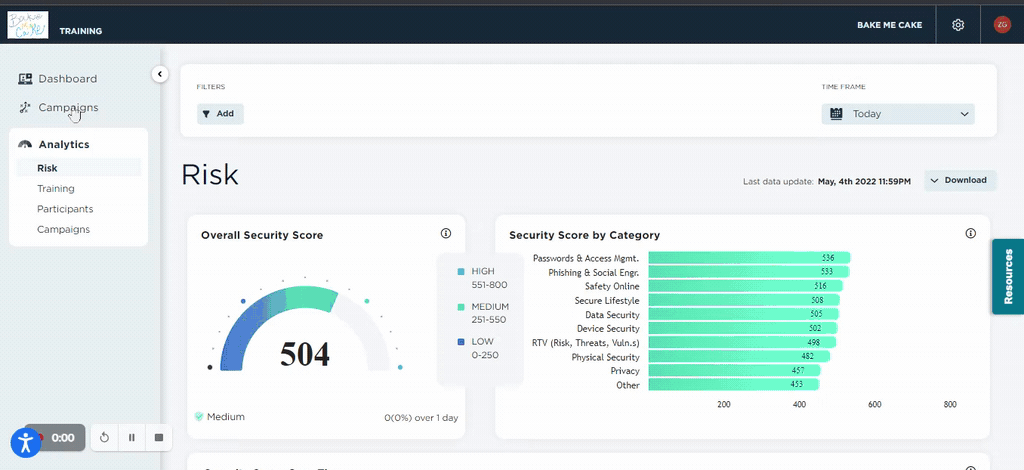 You can also preview content by toggling over to the "Videos" tab as shown in the GIF above. In this tab, content will be presented in a similar fashion as streaming platforms present movies or tv shows and has a bonus feature of letting you preview puzzles and assessments! Content in the "Videos" tab will be sorted by Security Concepts. Click on any piece of content to preview!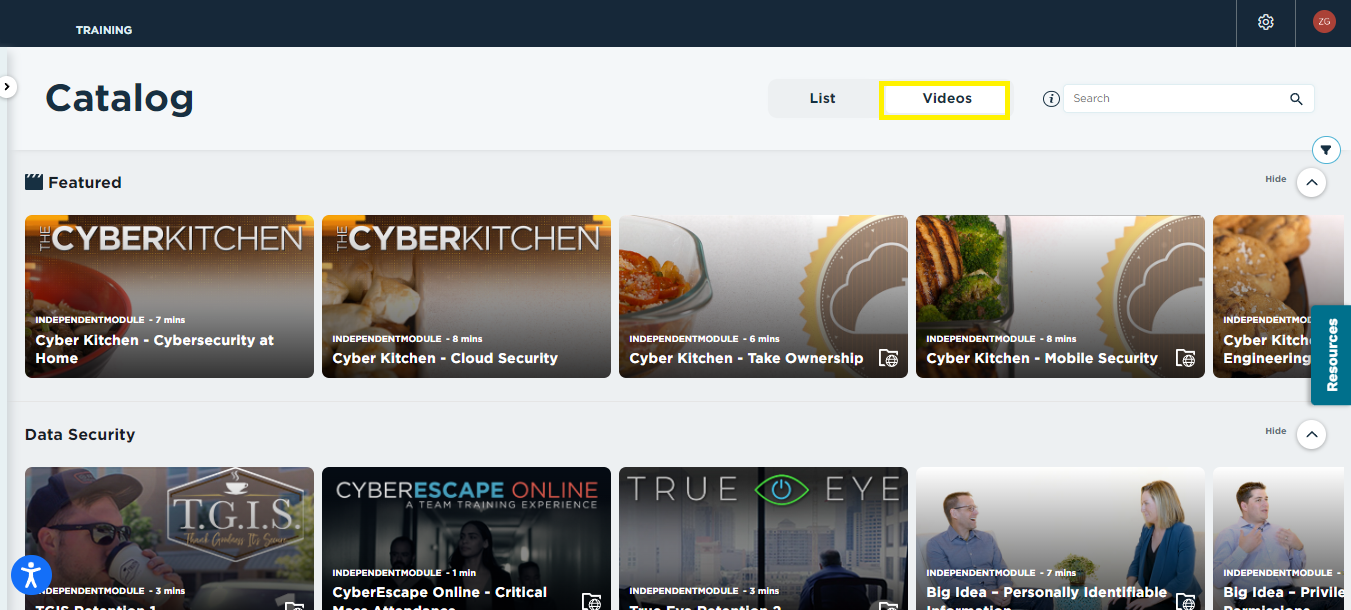 How do I add or remove content from My Collection?

You can favorite content to add to the "My Collection" folder by clicking the heart icon next to the content name. You can always remove content from "My Collection" by finding the module you would like to remove and click on the 3 vertical dots next to the content name to remove. A copy will continue to remain in the Living Security Catalog if you wish to use that content later on.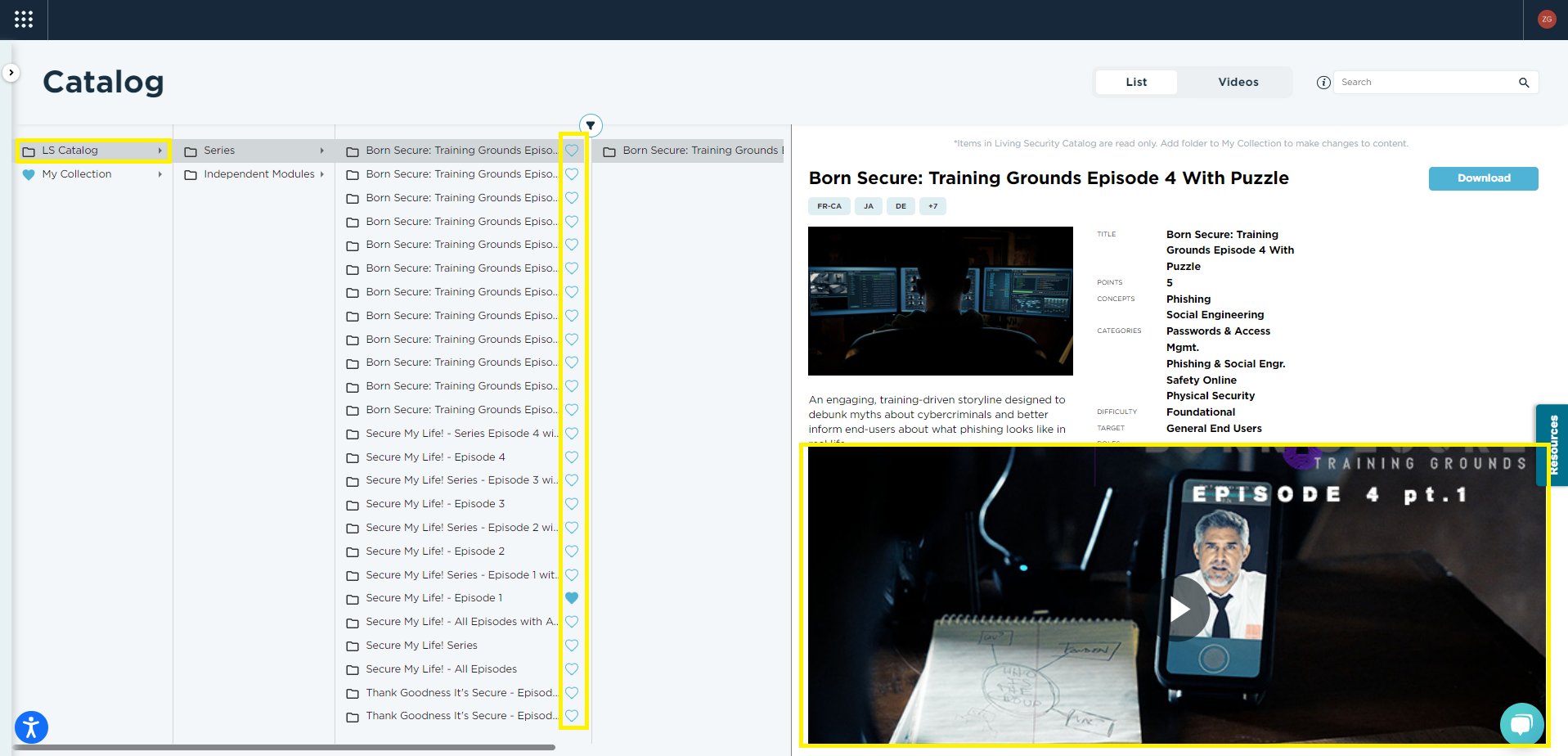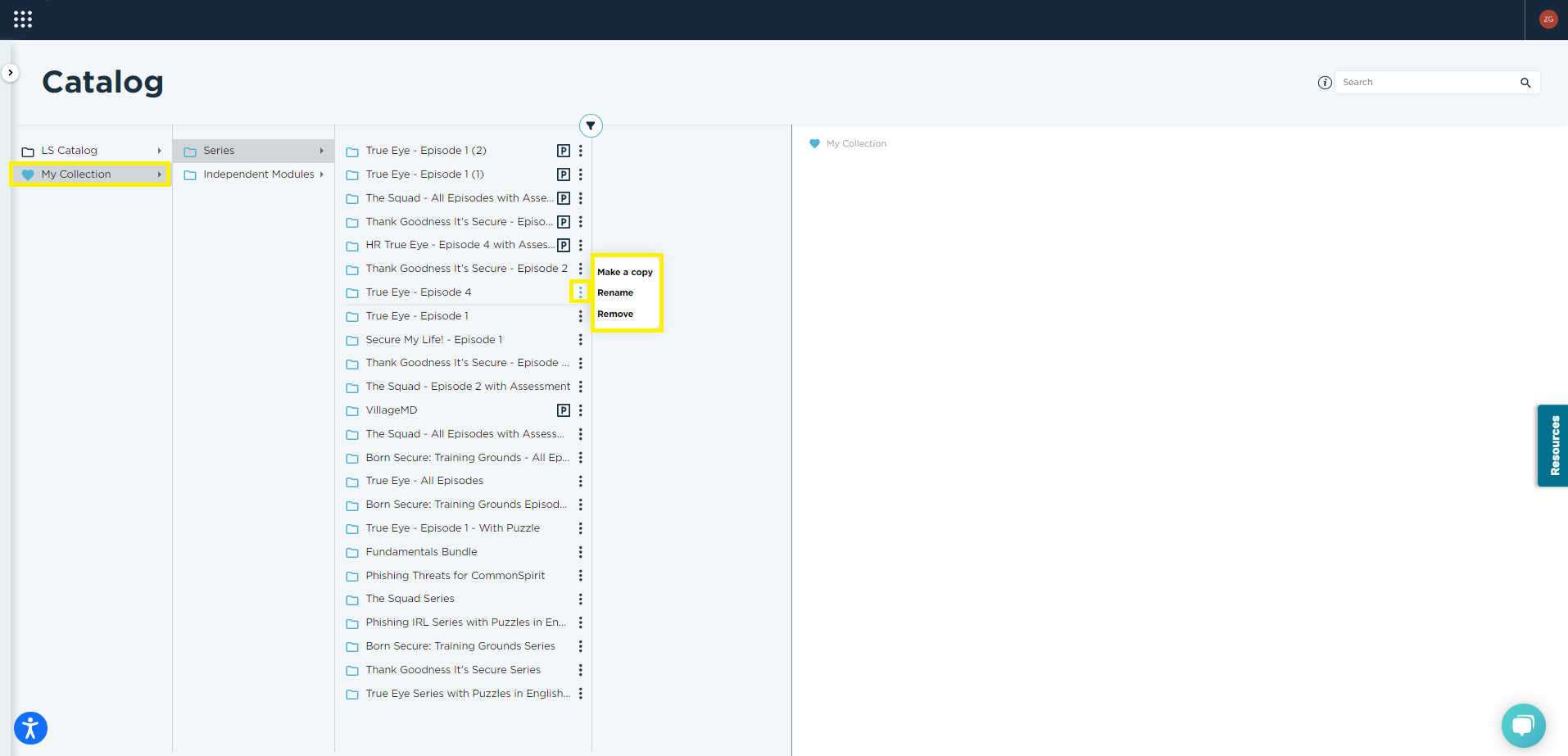 You will have both the "Series" and "Independent Module" folders in My Collection. Favorited Series from the LS Catalog will be added to the Series folder in My Collection and favorited Independent Modules in LS Catalog will be added to the Independent Modules folder in My Collection.

Please note: The folders in My Collection cannot be renamed at this time.
How do I Personalize Content in the Catalog?
Once you have favorited content to My Collection, you will be able to personalize the Questions, Answers, and Training Nudges. To personalize, follow these next steps as well as view the GIF:
Find content you wish to personalize in your My Collection folder.
Click into the Assessment Folder of the content.
Click on Customize
After it loads, the content that you clicked Customize on will be branded with a [P] for Personalized.
Click back into the assessment folder to click edit. You can edit the Questions, Answers, or Training Nudges.
After personalizing the Questions, Answers and Training Nudges as you deem fit, you can then Make a Copy, Rename, or Remove the Personalized content from your My Collection folder by clicking the 3 vertical dots.


Note: If you are renaming the title of the content, you will need to hit "Enter" on your keyboard to apply the name change. Furthermore, you cannot Personalize content that is being used in an active campaign. However, you can make multiple copies of the same personalized content as needed.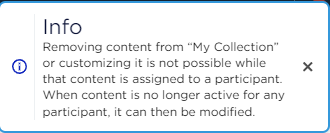 A standard version of the content will remain in the Living Security Catalog for future use as well.
LMS Gateway: Once you have finished personalizing the content, you will go back to the main folder for the content to click the LMS Gateway button. This will give you the options to download the content as a SCORM-like file, either as SCORM 1.2 or SCORM 2004, that can then be uploaded to your LMS. These SCORM-like files can be dynamically updated, as they route right back into where we house our content!
📍 Please note: You will only be able to view personalized content on your LMS in English. Only the original content will allow you to select a different language on your LMS. This is important to think about when wanting to personalize content.
How can I hyperlink text in the Training Platform Modules?
You are able to hyperlink text in Questions or Training Nudges within an assessment. To hyperlink text, you will need to follow this format:
[Display Text in these brackets](https://URL-to-hyperlink-here.com)
Here is a screenshot example within the Training Platform for reference: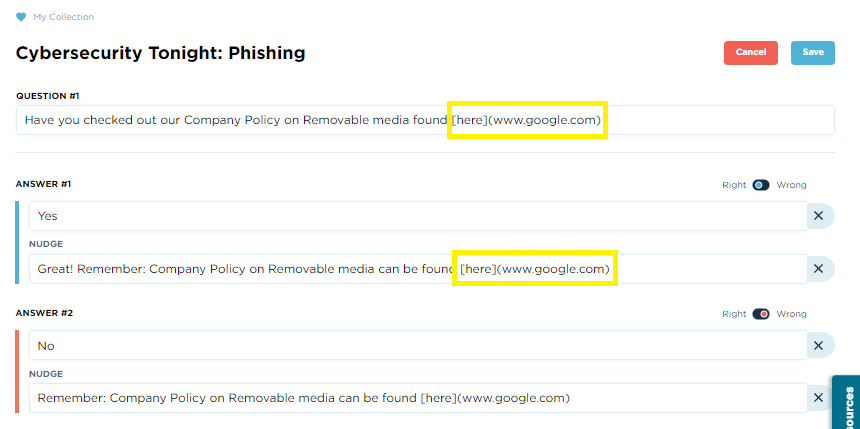 Here is a screenshot of how it will look for your Participants taking training once the content is assigned: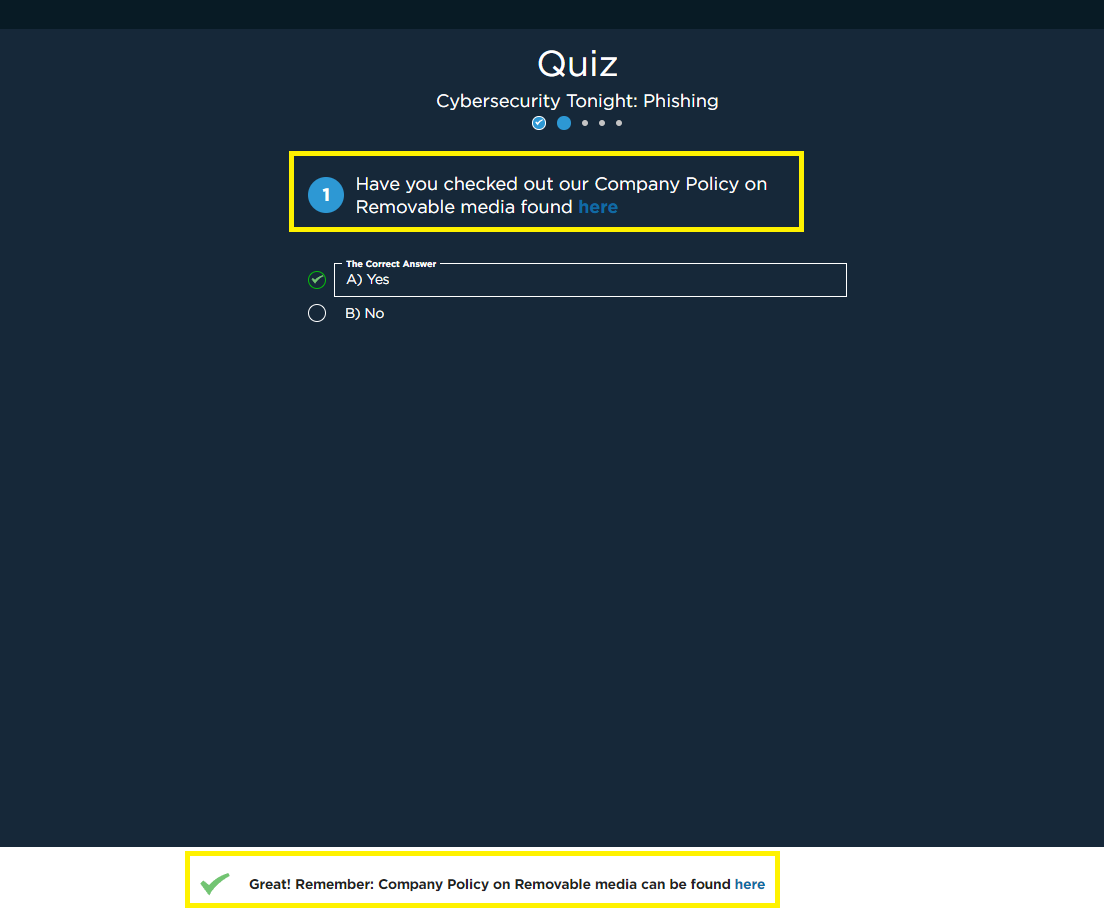 How can I add Company Specific videos to the Training Platform?
A fun feature of Living Security's Platform site is the ability to incorporate your internal events and activities into custom modules on your users' dashboard. Whether it's a lunch and learn, webinar, or even a scavenger hunt to get your users engaged, we'd love to host it on our Platform site to ensure your users have a single home base to return to for their security awareness training.
Simply
submit
this request form:
Custom Module Request - Video Only
💡TIP: Personalize on of our template modules available in your catalog to use our imagery for various events.

Your custom module will be available in your Living Security Catalog (only visible in your account of course) within five business days. If you would like an assessment of one answer verification question of watching, please request an assessment template with your module. Once there, you can edit questions, answers and training nudges as illustrated above.
Click here for a list overview of our Content Catalog.
Have additional questions? Contact Us!