In the Participant Dashboard, your users will be able to see:
Hero Section - highlights a piece of content at the top of the dashboard that is nearing its due date.
All Assignments (All Required and Bonus assignments) - Hub for all assignments a user has been assigned.
Campaigns and Campaign Leaderboard - To access a Campaign Specific leaderboard, you will need to scroll to the Campaign section of the dashboard.
Level, Overall Ranking, Badge Count, and Total Points
User Profile - Change themes, change languages, or sign out of the account.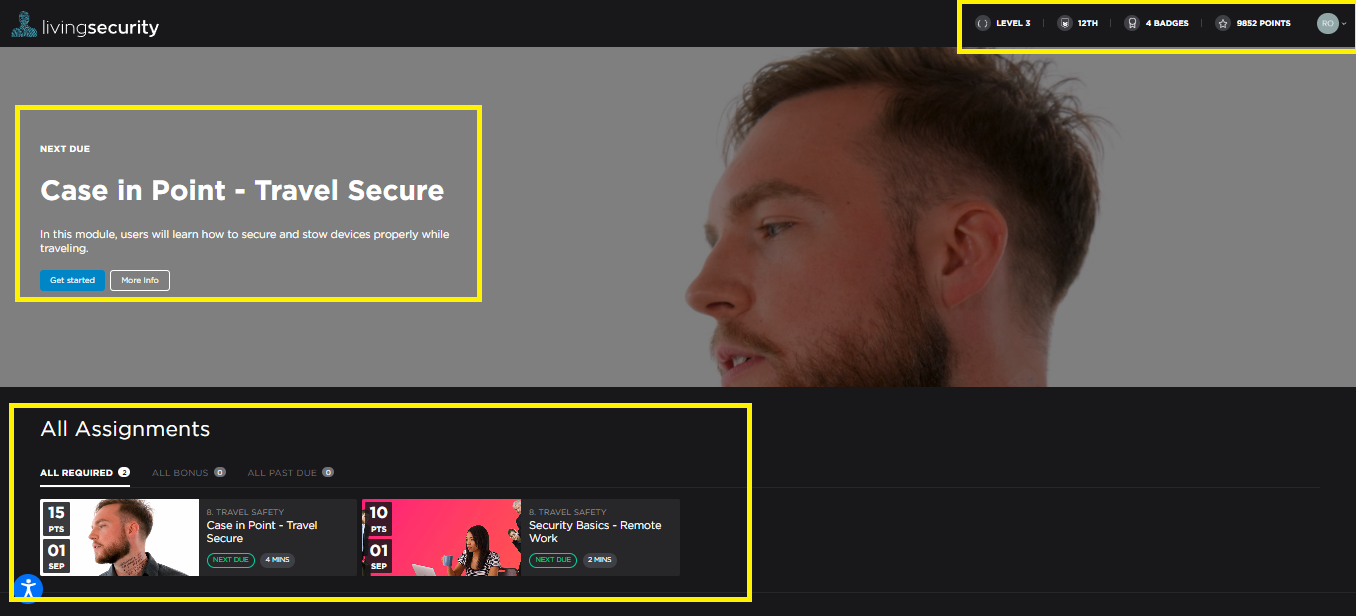 If the participants are assigned more than one Campaign, the other Campaigns can be scrolled to. Once all content is completed for a Campaign, that Campaign will automatically collapse on the Dashboard. This will help your end-users determine what Campaigns they still need to complete and which Campaigns they have already completed.
Navigating to the Participant Dashboard as an Admin:
As a Program Owner/Admin, you are also able to view the Participant Dashboard by clicking on "Dashboard" in your Admin navigator on the left-hand side of your screen.

If you have launched a test campaign for yourself to review, you will find the assigned content in your Participant Dashboard.
How Users Can Earn Points
Game points are points that participants earn when successfully taking content on the platform.

You can earn game points by completing content and by earning badges. The badges we currently have are listed below as well as their corresponding available points.
| | | |
| --- | --- | --- |
| Badge Name | Rules | Game Points |
| Raining Stars | Participant provides star rating on the content | 15 |
| A Team | Content is completed on the first try without errors | 100 |
| Feedback Royal | Participant provides comments on content | 20 |
| Early Bird | Content is completed before the due date | 25 |
There are 3 different levels that can be reached by participants through accumulation of points:
Level 0 (0-499 Points)
Level 1 (500-999 Points)
Level 2 (1000+ Points)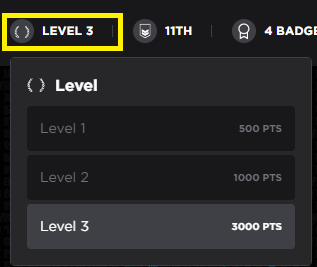 Accrued Game points are visible on the Overall leaderboard or Campaign leaderboard.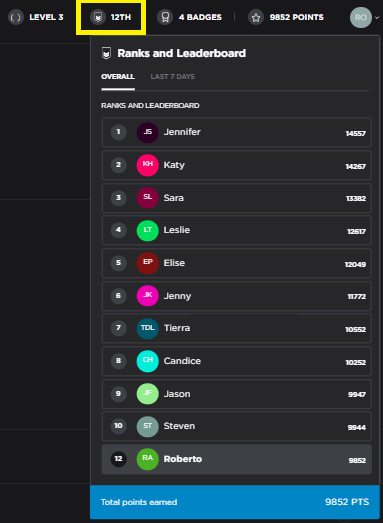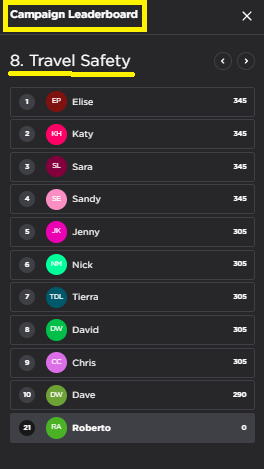 Participants are able to leave feedback on content, which is an earnable badge as shown in the table above, at the end of a Series or Module. Note: Participants can skip the feedback screen but will lose out on earning Feedback Royal and Raining Stars Badge points.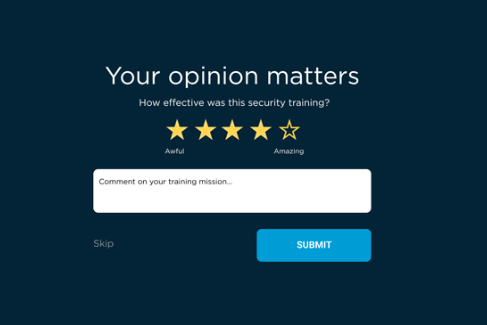 Participants can view all points collected through Badges in the Badges button.
Note: There are four types of badges, so that displayed "4" will never change.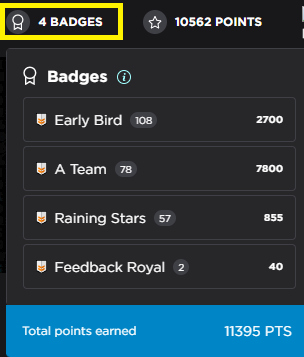 In Total Points, participants can view a list of all modules and points they have completed to date.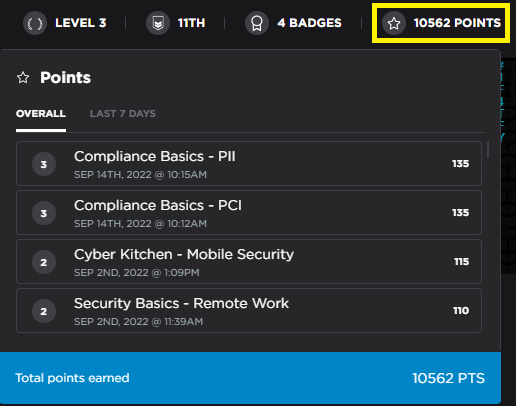 Theme and Language Selection for Users
There is a Light or Dark theme available for the Dashboard. By clicking on the upper right-hand corner, where the user's initials are, users can change between the two themes depending on user preference. If your users are needing to change languages to one of our available translations, they can click on their profile at the top right corner and click "Profile".

Here, your participants can change their profile language settings to one of our available translations on the Training Platform.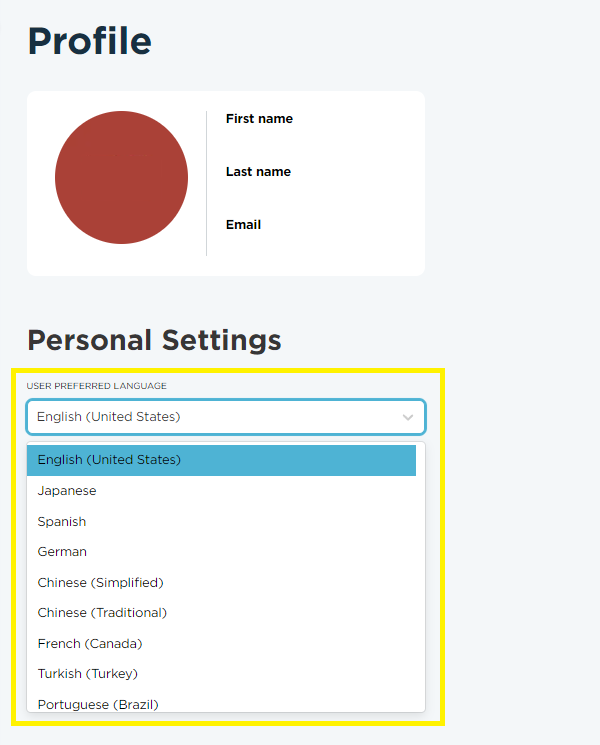 Content within the assigned Campaigns for your participants will dynamically change based on the preferred language selected by your users (depending on language availability for that content). The Training catalog is the best resource for knowing what content is translated into what languages. You can also use filters to help you out.

Can the Participant Dashboard be Customizable?
The Participant Dashboard background is NOT customizable at this time.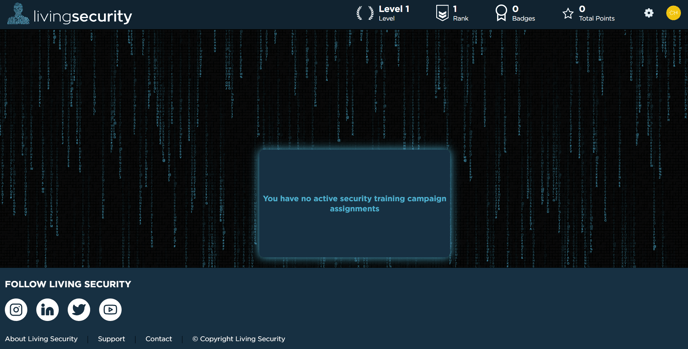 Recommended Next Steps:
Training Platform Overview
Technical Support
Analytics
Training Marketing Material
Have additional questions? Contact us!