Campaign List: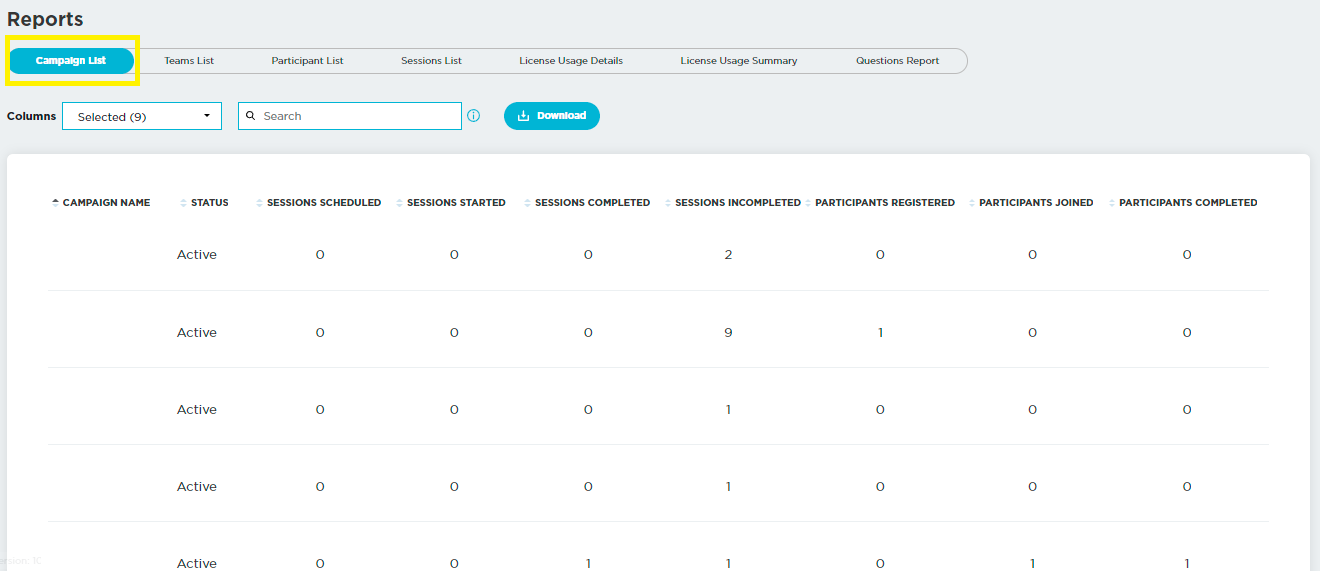 Under Campaign List, you will be able to see Reporting on your Campaigns. There are a total of 9 Columns that you can add to the Campaign List report. The 9 Columns are as follows:
Campaign Name - The Name of the Campaign
Status - Whether the Campaign is Active or Closed
Sessions Scheduled - How many sessions were scheduled for this Campaign
Sessions Started - How many sessions were initiated in the Campaign
Sessions Completed - How many of the initiated sessions were Completed in the Campaign
Sessions Incompleted - How many sessions were started but not finished in the Campaign
Participants Registered - How many participants have registered for session in the Campaign
Participants Joined - How many participants have joined sessions in the Campaign
Participants Completed - How many participants completed a session in the Campaign
You can add or remove columns as need. However, you are unable to remove the Campaign Name and Status.

You can also use the search box if you are looking for a specific Campaign. Click on the information button to view what can be searched for in the text box.


Lastly, you also have the ability to download the report for Campaign List by clicking the Download button. This will download the report in a CSV file.


If you have any additional questions about Reporting on the Teams: CyberEscape Online platform, please email us at help@livingsecurity.com.