After you click on create Campaign, you can begin selecting the content you'd like to release within the Campaign. To add Content, select the plus symbol below Training Content. See image below: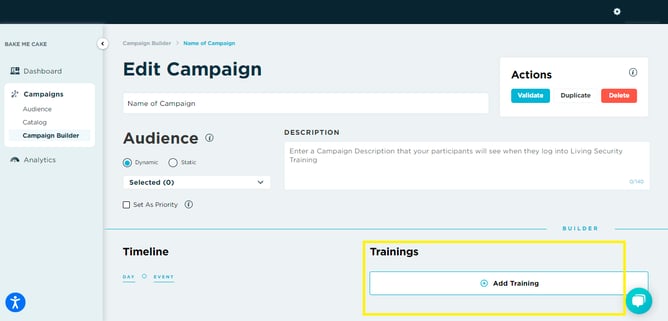 A window will open with the Training Modules and Series available to select. You can search through all of Living Security's Catalog, or review your Collection of Content which contains favorites and customized Content you've created.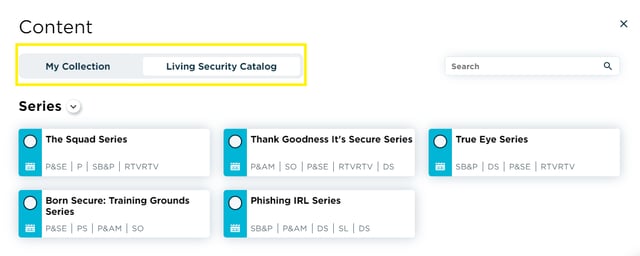 Select the Content you'd like and then select 'Save'.


Once you have clicked save, you will see all the content you selected on the right hand side.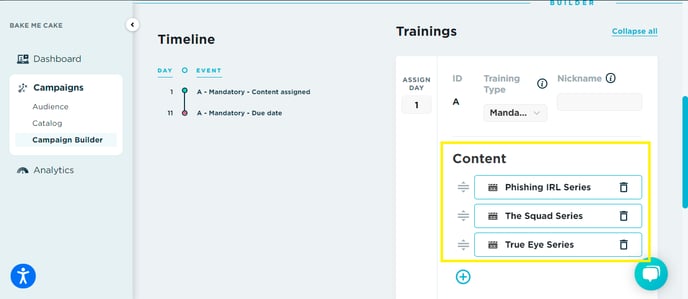 You can further personalize your campaign by selecting the order you would like for the content to appear on your end-users dashboard. Simply click and drag in the order of your liking (Please note: this is not a default feature and if you are interested in using this for your organization, please email us at help@livingsecurity.com to turn this feature on for you).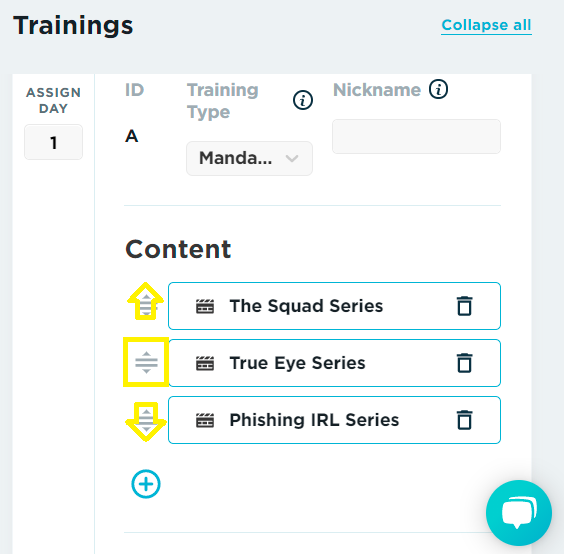 After you are done with Block A, you can either launch the campaign as it is or add Block B with more training content. This is useful if you are wanting different start or due dates on your content. To add another block of training content to your campaign, click on 'Add Training' below Block A.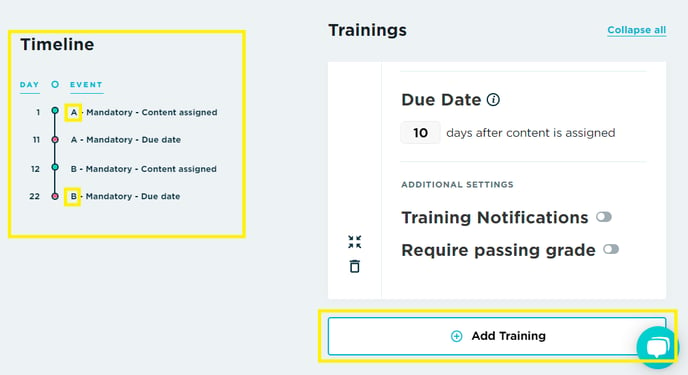 As Content is added to the Campaign, you will see the Timeline on the left update as well!

Once your campaign looks ready to go with your desired content, you can have the option to prioritize this campaign. This will pin the campaign to the top of the end-users dashboard making it the first campaign they see when they log in. At this time, only one campaign can have priority status and the rest of the campaigns will be in alphanumeric order (Please note: this feature is not turned on by default. If you would like this feature for your organization please reach out to us at help@livingsecurity.com to have this turned on).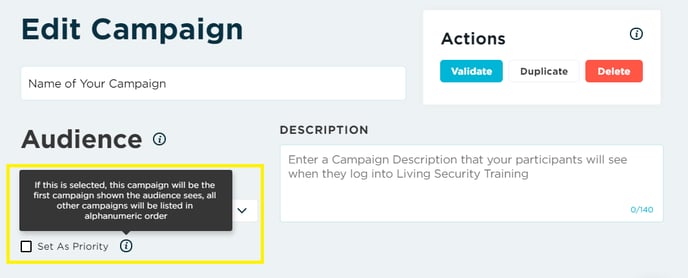 Pinning a campaign can have many use cases. For instance, if you are launching a campaign for Cybersecurity Awareness Month, you would be able to pin this campaign throughout the month of October so it is the first thing your end-users see. Same applies if a campaign is needing to be completed urgently. Pinning it at the top will ensure it gets done first.

We hope this information was helpful. As mentioned above, if you are needing either the Content Ordering or Campaign Priority feature turned on for your organization, please reach out to us at help@livingsecurity.com. We are more than happy to help!