There are two ways to keep your end users aware of past due training.
1. Automated Past Due Notifications
As you build your Campaign, you can associate past due notifications to each Content Block.
Toggle Training Notifications on and you will see three notification types:

Click on the plus icon below Past Due Notifications to select a standard Living Security template, or a customized notification from your collection.
Determine the frequency for sending Past Due Notifications

To remove the notification, select the trashcan symbol on the right.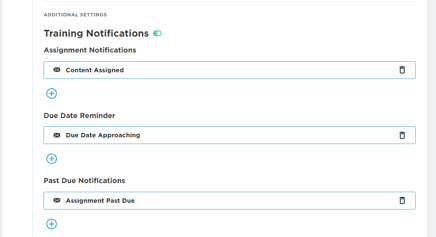 2. Manual Past Due Notifications
After launching your campaign, you can email those that are past due directly through your training platform.
Create a Custom Email in Notifications
Click into Campaign Details from Analytics Campaigns Tab

Once in the Campaigns Detail screen

Filter by the Status Overdue
Check off the users you would like to email
Click Send Notification and you will be able to select your custom email.