To begin the process of downloading, editing, and uploading a refined Target User Group, you'll start in Target User Groups within the Phishing tool. Next, click on the Download icon in the row of the existing Target User Group that you'd like to edit.
After clicking the Download icon, you'll be taken to the Download Report Pack view, where all of your downloads are staged before being able to be downloaded locally.
Upon clicking a similar, blue Download icon on Download Report Packs view, your local download will begin in the browser.
Once the file has downloaded locally, you'll be able to filter, make changes to, and remove users using Microsoft Excel to edit. The only items to keep consistent are the default column headings.
After editing your list of Target Users, you're ready to upload as a new Target User Group. To begin this process, you'll go to Target User Groups view within the Phishing tool. Click New Group and create a name for your new Target User Group.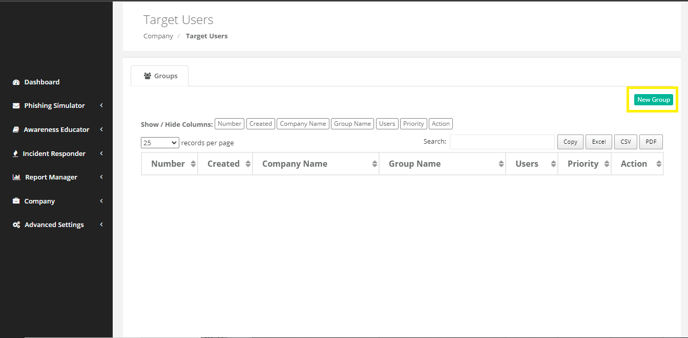 Once you have named your Target Audience, you will need to find that Target Audience and click on the 'Mail' icon to edit the users.



Once you are in, you will be able to download a sample Excel sheet for you to add your users to the sheet for a user import.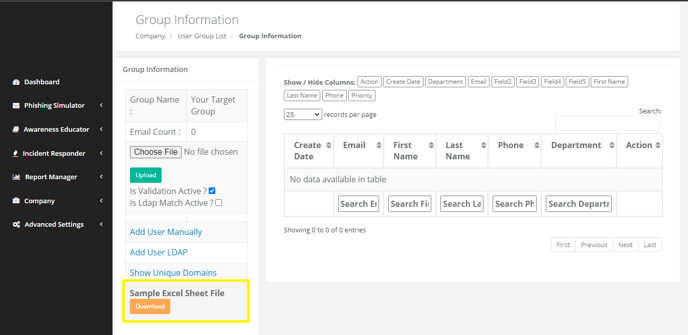 Once you have finished adding your Target Users to the Excel sheet, you will need to upload that sheet using the 'Upload' button.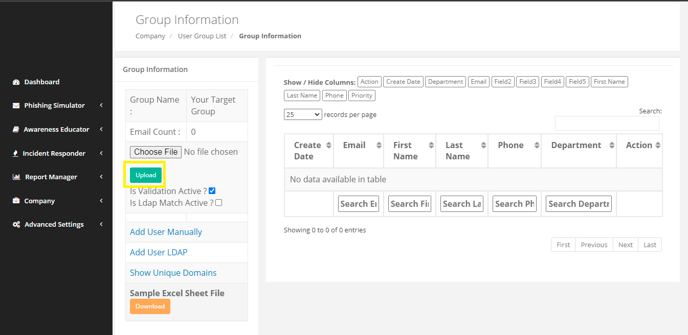 If you have any additional questions, please feel free to contact us at help@livingsecurity.com.