In order to add an individual user to the Training Platform, first navigate to the User Management page, which can be accessed by clicking on the settings toggle. This page is where you can add, manage, and edit users, as well as download your full list of users.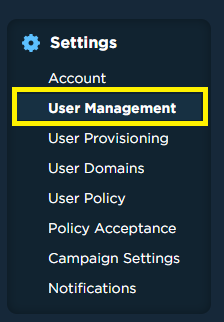 If you have not already set up a SCIM connection, at the top of User Management, you will be able to select "Add user".

You will then see a pop up screen with different fields to modify. Email address is the only required field, but we highly recommend including First Name and Last name as well for any users added. Any additional attributes past these three will assist in filtering Audiences and the data found in Analytics. After adding the desired attributes for the user, you will click submit at the bottom to save the changes.
⛔ Please note: If you choose to not include First Name and Last Name, the user's email address will be used in places such as the Leaderboard.

This method is ideal if you are only needing to add 1-2 users. If you are needing to add a large amount of users manually, please visit our How to import users with CSV file article.


If you have any additional questions, please contact us at help@livingsecurity.com
---
Learn more about User Management:
Training Platform - User Management Video Course
Training Platform - User Management Overview
Training Platform - How to sort and filter user information in User Management