On the left menu under Campaigns you'll find the Audience tab. This is where you can view your existing Audience groups and create new groups for your end users.



In the Audience tab you can preview:
Name: Selected Audience name
Created: Date the Audience was created
Updated: When the last modification took place
Users: Total number of participants included in the Audience
Campaigns: Total number of Campaigns this Audience is included in
More: View, Edit, Rename, Duplicate, Delete
Create a brand new Audience by selecting the 'New' button in the top right of the window.

💡You can make as many Audiences as needed for organizational purposes.💡
Upon clicking "New" and naming your audience, you will be taken to the Audience creation screen. Here, you can apply any Filters or Exceptions to the Audience.
Filters: You are able to add filters to your audience so that it can get updated automatically based on the filters chosen. Filters are applied utilizing the attributes from User Management.
🔴 The List Filter is the only filter that does not update automatically. A List filter is best used when you are needing to create an Audience but none of the other filters work for automatically pulling the users in. To use the list filter, you add emails of the users you wish to be pulled into the Audience to column A of a CSV file and import it. To update the audience, you can import more CSV files as needed at a later date.


➕ Please note that a participant must first exist in User Management before they can be added to an audience.
Provisioned On/After: This filter is best for capturing users based on the date they were added to the Training Tool in User Management. For instance, if you have an "All Employee" audience, but you are needing a New Hire audience, you can create the New Hire audience with the Provisioned On/After filter and select a date on the calendar for the audience to pull users that match the date selected or a date after.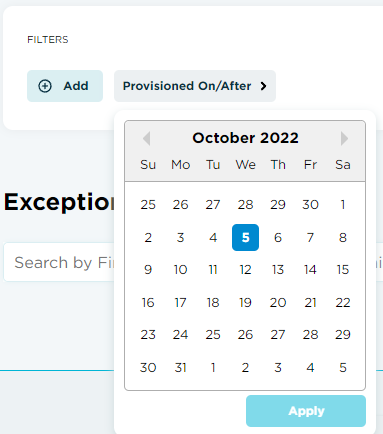 Exceptions: Search a user by First Name, Last Name, or Email and either "Always Allow" or "Always Deny" from the audience - depending on which one you need. Utilizing the exceptions bypasses your filters.
💡If you have a filter set to only include users from the Support Department, but there is an exception added to "Always Deny" the Director of Customer Support as they will be added to an Executive Leadership audience, then the Director of Customer Support will be considered an exception to the Support Department filter. 💡
❗ Please Note: Adding a participant to the Exceptions list of an Audience associated with an Active Campaign will remove them completely from the Active Campaign, including any assignments that have already been assigned. ❗
After you have added users to your audience, you can review all the users, and their statuses in the audience, and ensure everyone you wanted to be in the audience is there. You can also update an audience any time in the future as well.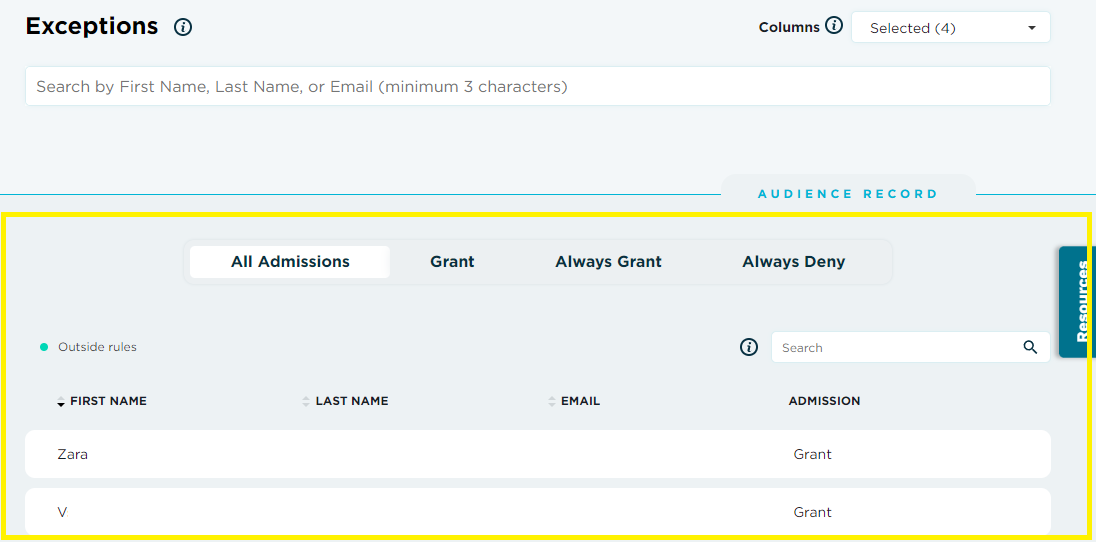 🔴Please note: You are unable to delete an audience that has been associated with an Active Campaign. We recommend changing the name of the Audience you wish to not use to "Do Not Use Audience #" so that you know which audiences you are no longer needing to utilize.🔴
If you have any additional questions, feel free to contact us. We're happy to help!