Teams: CyberEscape Online Participant FAQs
Teams: CyberEscape Online - What to do When You are Stuck on a Video
In order to provide the best experience, our CyberEscape Online Teams experience gives everyone in the group a chance to view the video before proceeding forward. If you happen to finish a video before the rest of the team, you will be presented with the following screen:

If all of the participants videos have finished, but the game has not progressed forward, the leader will get an option 15 seconds after being stuck to 'Move Ahead'.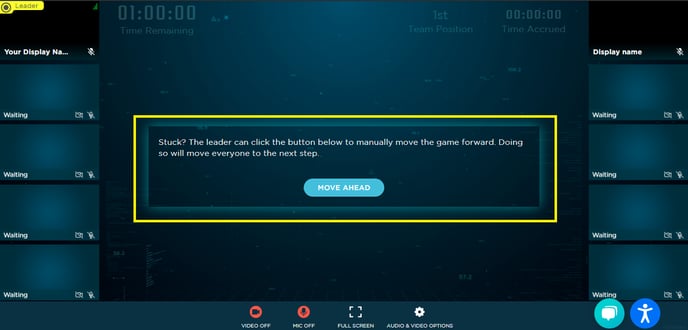 Only the leader will be able to see the 'Move Ahead' button. If you are the leader, but cannot see the button, have a team member take lead to check if they are able to see the button. Clicking on 'Move Ahead' will push the team forward to continue to the action.

If you have any additional questions, or need further assistance, please use chat to speak with a live support member. You can also email us at help@livingsecurity.com.