Sessions List:

There are a total of 17 columns you can add to the Session List report. The 17 Columns are as follows:
Session ID - ID of the session the participant was in
Status - Status on whether the session was complete or incomplete
Here are the available statuses:
-Completed - Marked when a game was completed in time
-Incomplete - Participants Joined, but no one completed the game
-Scheduled - Sessions that are scheduled for the future
-Active - Sessions that are currently in progress
-Lost - The timer ran out before the game was completed
-Missed - Sessions that had registered participants, but no one joined
(Please note: Sessions that were 'Empty' will not appear in Reporting within the Teams Platform or the Downloaded Report. For a session to be considered 'Empty', there needs to be 0 registered participants and 0 joined participants.)
Time - Time of day the session took place
Date - Date the session took place
Time Zone - Time Zone used when scheduling the session
Campaign - Name of the Campaign that the session was created in
Storyline - Storyline of the Session
Team Name - Team Name chosen by participants in the session
Room ID - Unique Room ID of a session
Participants Registered - How many participants registered for the session
Participants Joined - How many participants joined the session
Participants Completed - How many of the joined participants finished the session
Elapsed Time - Natural time it took the team to complete the session
Penalty Time - Penalty time added due to skipping puzzles or getting quiz questions wrong
Accrued Time - Sum of Elapsed Time and Penalty Time
Questions first time answered correct - Number of questions the team got right on the first try in the session
Skipped Puzzles - How many puzzles the team skipped in the session

For Participants Registered, Participants Joined, and Participants Completed, you will be able to click on the drop down box, if there is a participant in each column, to view the participants in that specific session. If there is a 0, there will not be an option for a dropdown due to no participants to report.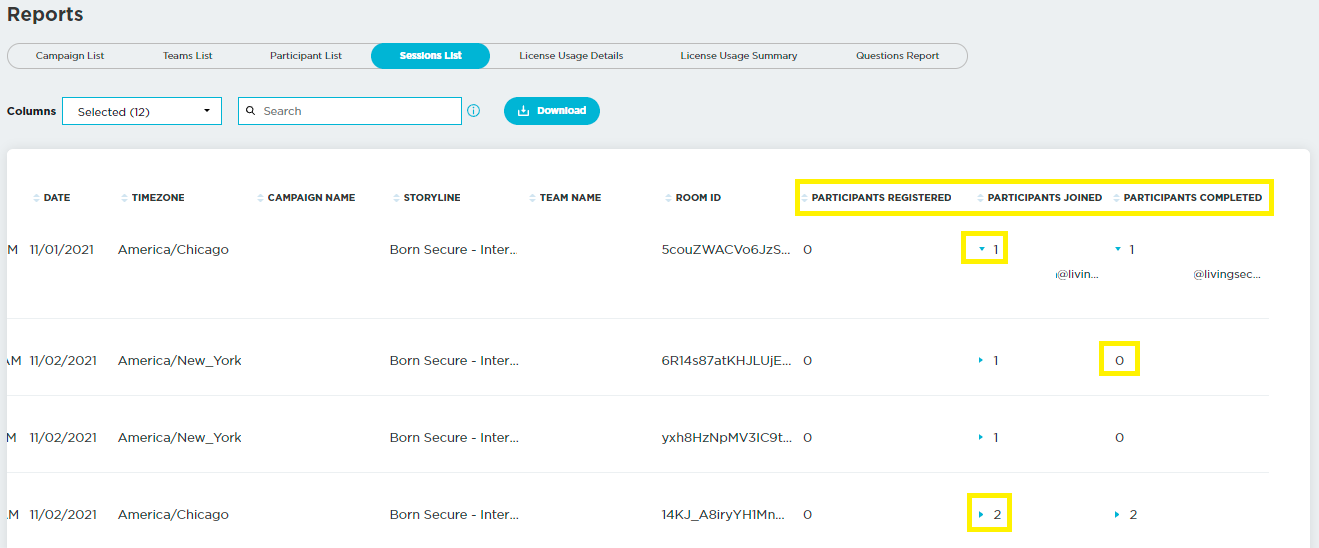 You are also able to use the Search box and download the report for Sessions List.

The following columns are only available through the Session List Report download:
Session URL
Conference URL

If you have scheduled a batch of sessions for a month, and want to be able to quickly reference all Sessions and Conference URLs for all sessions to distribute to teams, download the report for a full list.
To accomplish this, add a filter to the report to show all sessions with the status "Scheduled" or if a specific Campaign was created for the event or batch of sessions you created, it can be sorted by Campaign name as well.
If you have any additional questions, Contact us!