With the ability to add multiple Acceptable Use Policies to the Living Security Training platform, you will also have metrics to go over for users who have and have not accepted the policy. To view this data, you will click on the Settings toggle, go to Configuration, and click on Policy Acceptance column.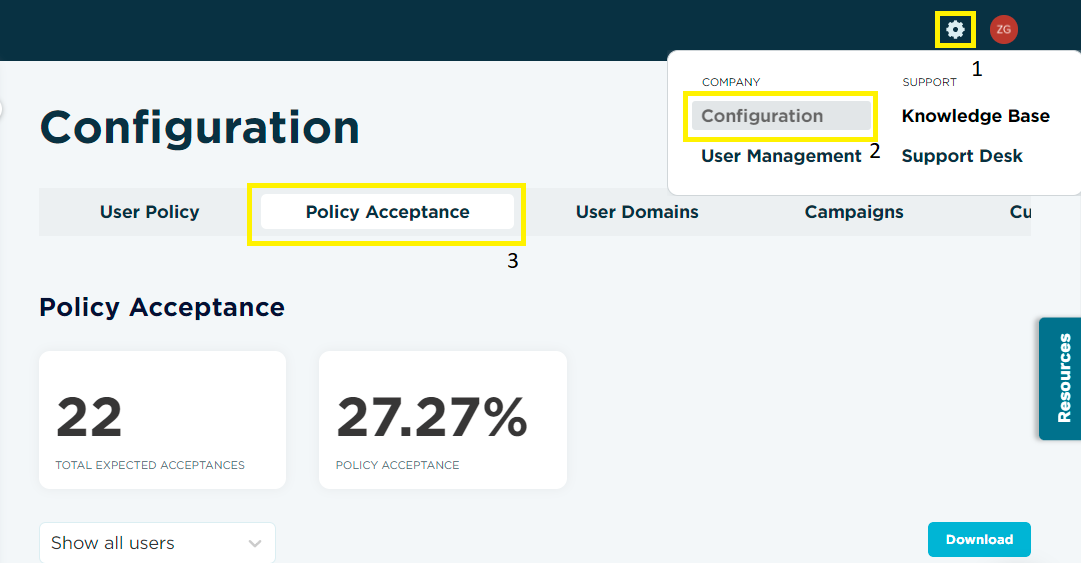 At the top of this page, you will get a quick summary of the total policies remaining to be accepted. Since a user can have more than one policy to accept, this number will be a total count of policies left to accept including users who have more than one to accept. For instance, if a user has three policies to accept, that user will be counted three times in the 'Total Expected Acceptances". In 'Policy Acceptance', you will get a percentage of how many of the policies have been accepted in your organization.

Under the Total Expected Acceptances and Policy Acceptance summary, you will have a table with columns of information that you can use. The tables columns will include:
First Name
Last Name
Email
Policy
Policy Accepted (yes/no)
Date Accepted
You will also be able to filter between 3 settings:

Show All Users
Accepted Policy
Waiting Acceptance
If you would like to filter this information outside of the Living Security Training Platform, you can download the CSV by clicking on the 'Download' button. You can then open this document in Microsoft Excel or Google Sheets and apply different filters to sort the data as needed.
if you have any additional questions, please feel free to contact us at help@livingsecurity.com