To start viewing reports from the Phishing Tool, a Campaign must be launched. For a refresher on how to launch a Campaign, please visit our How do I Launch a Phishing Campaign article.

Once you have launched a Campaign, you will start seeing reporting on the campaigns launched. There are two areas you can view Campaign reporting. The first will be on your dashboard which is the first screen you are presented with upon logging in to the Phishing Tool.


Here, you will see your Company's information, a Pie Graph with all your campaigns and their status, as well as a table of your Phishing Campaigns in the last 6 months.

In the bottom half of the dashboard, you will also see your company's Phishing Simulator Score and Awareness Educator Score. There is also a section to review the most recent 5 Campaigns.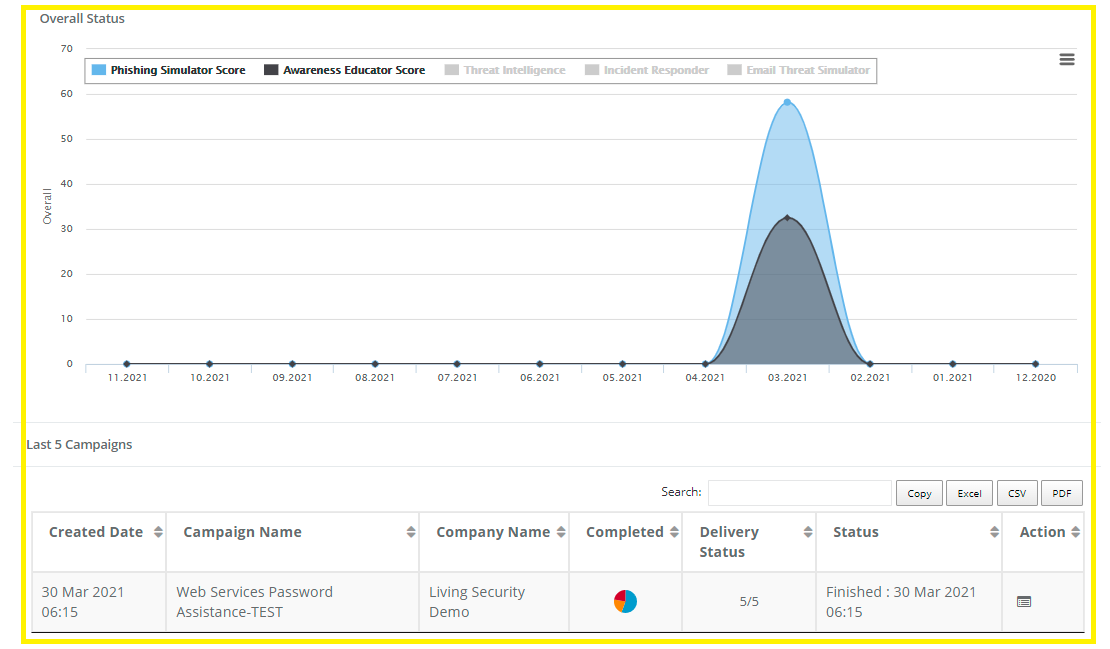 The section with the 5 most recent campaigns will have the following information in its columns:
Created date - Date/Time the Campaign was Launched to Target Users
Campaign Name - Name of the Campaign
Company Name - Your organizations name
Completed - Status of the campaign (You can hover over the pie graph for a quick snapshot of the campaign)

Delivery Status - How many phishing emails have been sent / Total # of Target Audience
Status - Whether the Campaign is Ongoing or Finished
Action - This opens up the Report for the Campaign you are looking at
As mentioned above, you can click Action next to the Campaign you are wanting to review the report for.

Once you have clicked on 'Action', you will be presented with a Summary Report of the Campaign.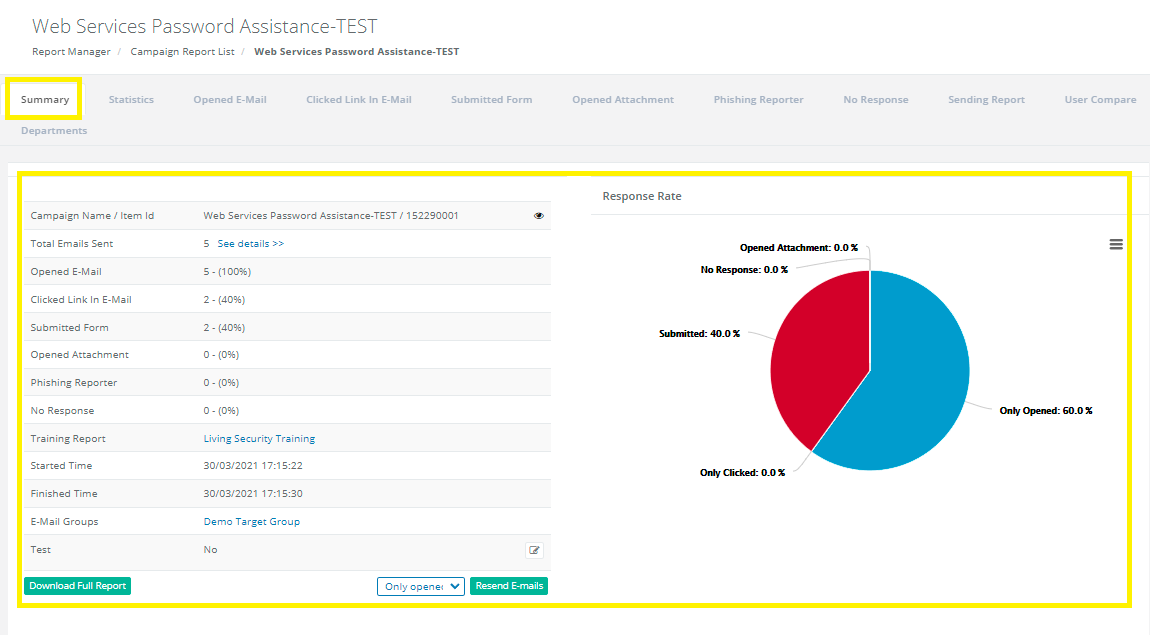 On the left hand side, you will see a summary of the Campaign. The following will be included:
Campaign Name - Name of your Campaign (You can also click the eyeball to preview the template for the campaign)
Total Emails Sent - # of emails sent
Opened E-Mail - Number of emails opened from those Emails Sent
Clicked Link in E-Mail - # of users that clicked on a link
Submitted Form - # of users that submitted credentials
Opened Attachment - # of users that opened an attachment
Phishing Reporter - # of users that utilized the Phishing Reporter button
No Response - # of users that did not open or interact with the Phish email
Training Report - Training page used for this Campaign
Started Time - Time/Date Campaign was launched
Finished Time - Time/Date Campaign ended
Email Groups - Target Users
Test - Was this a test Campaign?
You also have a few tabs you can click on for a more specific report. For instance, if you are wanting to know what users clicked on the Phishing Email, you can click on the 'Opened E-Mail' tab.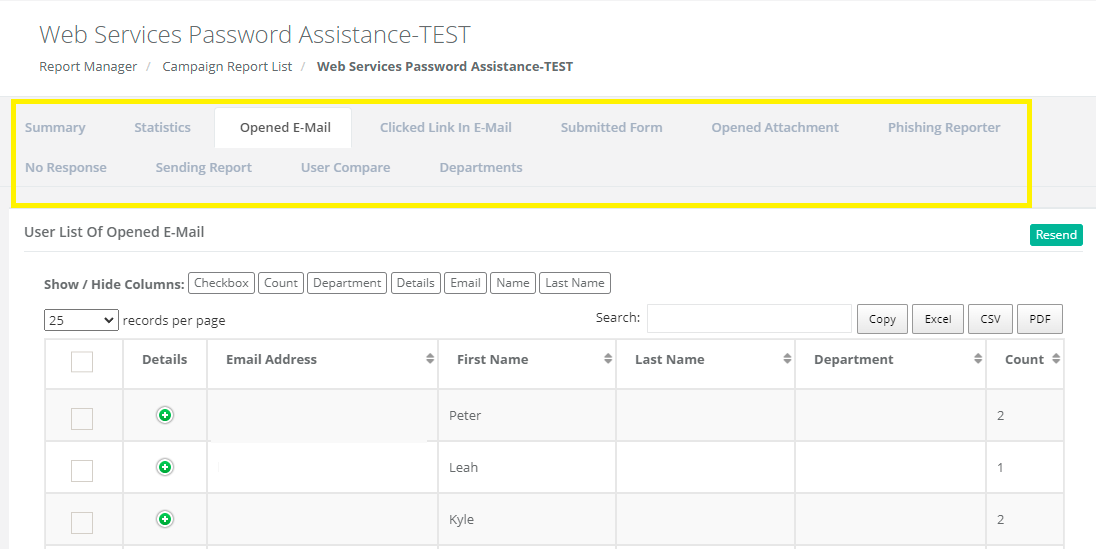 Here, you will be able to see more information that will not be shown on the summary tab. For instance, you can view the email address, First Name, Last Name, Department, and a Count of how many times the user did the action.

To download the full report, you will go back to the Summary tab and click on 'Download Full Report'.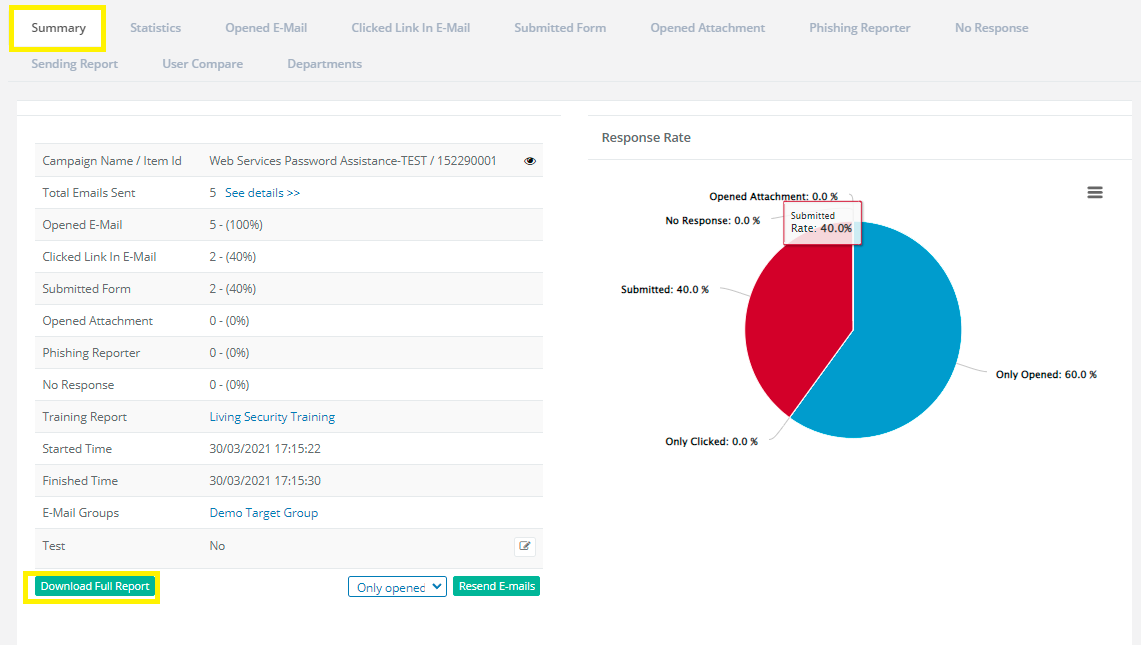 You will be redirected to a Download Report Pack where you will see a list of all your campaigns. Click on the download button next to the Campaign Report you are wanting to download.


If the Campaign you are wanting to view the report for does not appear in your Dashboard, you can also click on 'Report Manager' > 'Campaign Reports'. This will show you a master list of all the Campaigns you have launched on the Phishing Tool to date.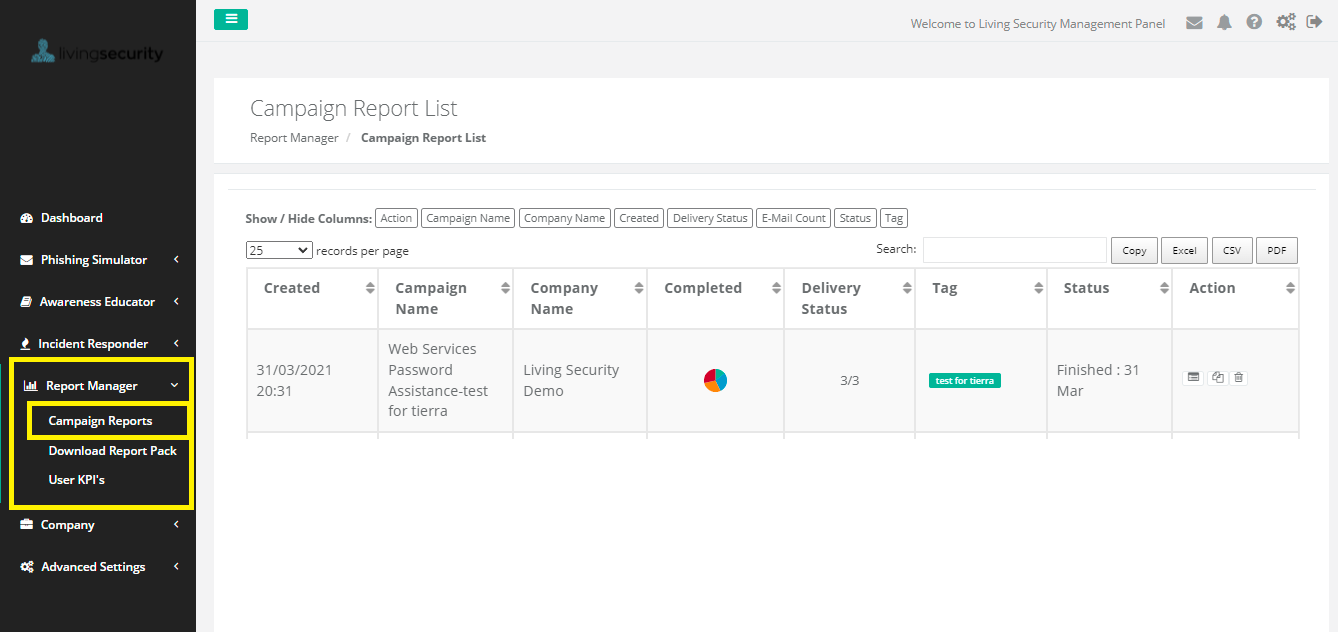 Right under 'Campaign Reports', you will also be able to visit the Download Report Pack mentioned earlier directly.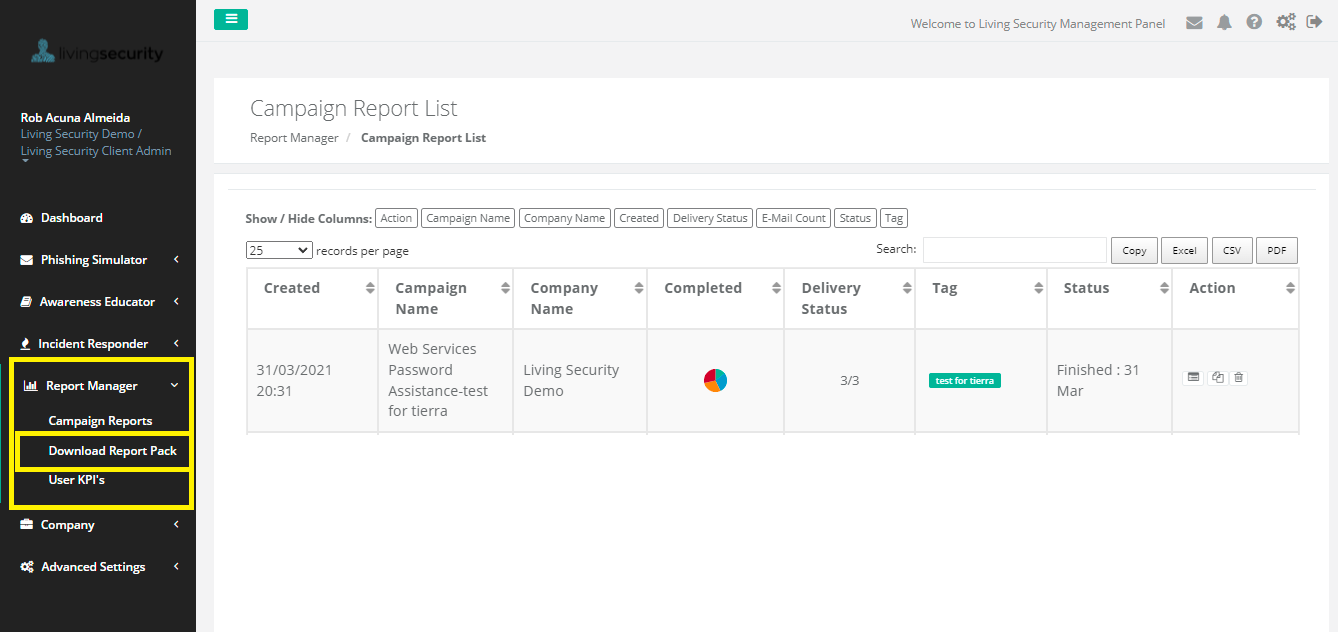 Here, you can download the reports for one or all your campaigns to organize the data to your liking.
If you have any additional questions, please feel free to reach out to us at help@livingsecurity.com.