Need inspiration to encourage your end users to log onto the Living Security Training site? Here are the various gamification features Living Security offers on the Training site and examples of how to leverage each component.
Points
The points displayed on the Leaderboard are earned a few different ways:
By completing a content - Available points for completing a module are shown to you in catalog details and are shown to users on their dashboard
By earning badges - A user can earn up to four badges for various point amounts for each piece of content completed.
Badges
Badges are a great way for users to gain additional points on top of the points earned in the assigned content! Please see the chart below on the available badges, how to earn them, as well as the points associated with each one!
| Badge | Rules | Game Points |
| --- | --- | --- |
| A Team | Participant completes the Module, Series or Game on the first try without error. | 100 |
| Early Bird | Participant completes Training before the due date! | 25 |
| Raining Stars | Participant ranks Modules, Series or Game after completing Training. | 15 |
| Feedback Royal | Participant lets you know what they're thinking by sharing their thoughts! | 20 |
Levels
Levels can be reached by earning the required points associated and give your users a goal to reach without having a time frame attached like they would at the Campaign or Weekly Leaderboard level.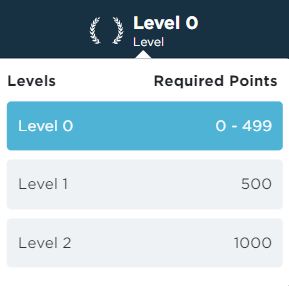 There are countless ways to gamify the Training site, this is just the tip of the iceberg. It's all about creativity and positive reinforcement! You've got this!