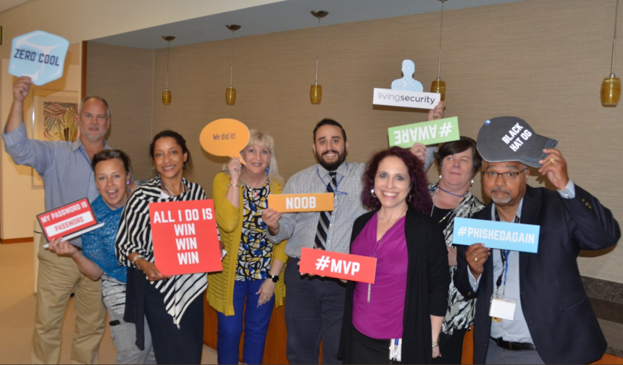 Living Security attended the International Association of Security Awareness Professionals (IASAP) Summit in Richmond on August 2nd. We hosted our Security Awareness Escape Room for some of the biggest visionaries in the Security Awareness industry, and I bet it comes at no surprise that they were a competitive group! The Cyber Defenders narrowly beat The Marvelous Mikes 2Legit2Quit team by 14 seconds, but both teams did Escape!
The Living Security Escape Room is an effective tool in reducing risk by improving security culture with a comprehensive security awareness program. By experiencing security concepts through hands-on interactive learning, participants gain a deeper understanding and appreciation of security risks to enable behavior change.
We are proud to be partnering with the IASAP to help promote awareness and engagement with cyber security to employees at organizations around the world!
The International Association of Security Awareness Professionals (IASAP) is a 501(c)6 non-profit fee based corporate membership association dedicated to the exchange of best practices for elevating security awareness programs at all levels within its member organizations. IASAP's goal is achieved through collaboration, benchmarking, and an NDA trusted network of peer companies. Please learn more about IASAP at IASAPgroup.org, https://twitter.com/IASAPgroup, or search for IASAP on LinkedIn.
In October, we are launching Cyber Escape, a security awareness game for employees that is completely digital and can scale around the world. We are giving 250 free user seats to IASAP members to pilot at their organization. Click here to sign up!