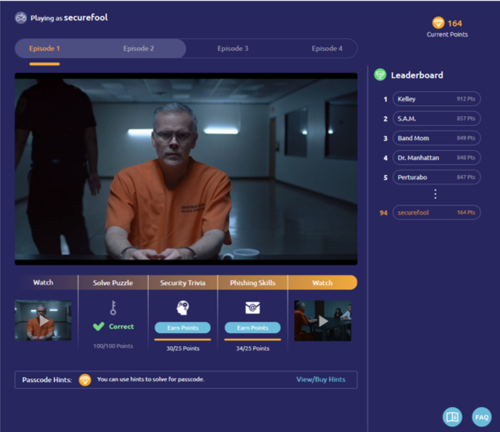 Launch of Cyber Escape
Living Security is excited to announce the launch of Cyber Escape, a new digital security awareness training platform that reduces the risk of high-impact cyber threats by encouraging experiential learning and gamification which is proven to increase retention and engagement. Cyber Escape provides live-action storylines and interactive games that allow employees to compete for points – all while learning critical security awareness skills!
Living Security has successfully provided engaging security awareness training to thousands of people through its original product, the Living Security Escape Room. Over the past 12 months, Living Security has brought the Escape Room training to more than 50 companies and conferences throughout the US.
Living Security hosted its initial Cyber Escape launch event in Charleston, South Carolina on August 8, 2018 to great success with more than 40 enterprises in attendance, and is moving forward with plans to launch the product to a broader market in conjunction with National Cyber Security Awareness Month (NCSAM) in October. Participant response has been extremely positive to the game, with 96% of users saying they would like to play the training game again.
Drew Rose, CSO and Co-Founder of Living Security says, "Making Cyber Escape was a dream come true for me and I can't wait for other people to share in that dream. It is an adventure that will keep people on the edge of their seats in cubes or corner offices... and that's a feat worth talking about."
Living Security is dedicated to providing game-changing security awareness training to employees through real world experiences with their Escape Room product and their new Cyber Escape training platform. Living Security's innovative approach to security awareness training enables companies to track and measure the effectiveness of their programs and provides a collaborative and hands-on approach to reducing corporate cybersecurity risk. An initial round of funding has provided momentum for continued growth, and thousands of participants have already engaged with cybersecurity training tools provided by Living Security.
OUR MISSION
At Living Security, we reduce the #1 cybersecurity risk for enterprises, human error, through engaging and impactful security awareness training that is brought to life by innovative tech enabled experiences.
OUR STORY
Living Security co-founders, Ashley and Drew Rose, recognized that traditional security awareness programs were failing to move the needle and it was time for a fresh approach. Our immersive training experiences engage the enterprise using science backed techniques to motivate behavior change and refreshed content that's relevant for the current threat landscape.
OUR CULTURE
Living Security was founded out of personal experience with the problem as a practitioner combined with a passion for solving problems with large impact and opportunity. Our team is comprised industry experts, SME's and fun, passionate people that are just a little crazy – hey, we did join a startup! We are all here to build something great – will you join us? It's an incredible journey!
Our innovative Cybersecurity Escape Room experience builds security awareness concepts into an engaging team experience people actually enjoy. Watch the video here.
Online security awareness training platform leverages game based learning and a custom curriculum to make cybersecurity awareness training fun and effective.
Hosted Platform or SCORM Delivery
Our gamified training platform allows program owners to assign users training and track through completion and beyond. Our interactive video series are broken in to episodes that cover critical security awareness concepts through story based learning and interactive puzzles. Customize your program through the addition of role and concept specific micro-modules and incentivize completion through leaderboard challenges and rewards and recognition. Series and modules are also available in your SCORM packages for delivery on your LMS.
BACKED BY SCIENCE. BUILT TO SCALE.
Our science-based approach drives user engagement and reinforces positive security behaviors across the enterprise.
Science Backed
Our proven techniques engage participants, increase retention rate and motivate behavior change.
16x increase in retention from experiential learning.
Tech Enabled
Our tech-enabled platform makes managing and scaling the experience easy, allowing you to extend the reach of your security team.
Smart Analytics
Insightful metrics provide program owners with deep understanding of human risk within their organization and provides the tools to make the right changes.