People often equate cybersecurity with the office, viewing it as something that adults learn about at work to keep their companies safe. However, these days children are online just as frequently using computers and electronic devices to socialize and learn. When schools moved virtual during the Covid-19 pandemic cybercriminals pounced on the opportunity. According to the FBI, K-12 education networks accounted for 57% of ransomware attacks in August and September 2020 alone, and cybercriminals often gained access directly through unsecure email accounts, stealing sensitive data including student social security numbers.
Breaches like this can have severe impacts on children, including identity theft that could follow them for years to come. It's our responsibility to protect them and the best way to do that is through cybersecurity education and training.
Over the summer, Living Security teamed up with the U.S. Department of Agriculture (USDA) to host a CyberEscape Online experience for students in USDA's Science Technology Engineering Agriculture and Math (STEAM) Summer Camp Program. During these two-week camps, USDA brings together middle and high school students from around the country to provide them with hands-on experience in the data science and security fields. This year, organizers wanted to give cybersecurity a larger focus and start instilling in students the importance of strong cyber hygiene habits.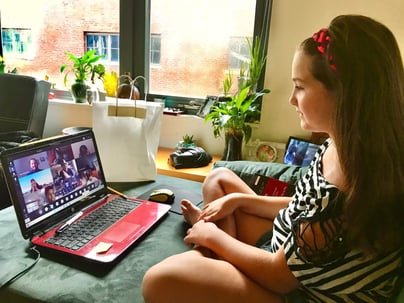 "Our mission with the STEAM program is to help tomorrow's leaders understand the power of data, and both the positive and negative impacts it can have on our world. Part of that is giving these students an understanding of the dangers of cybercriminal activity and the ways that proper cyber hygiene can protect them," said Quint Consani, Network Security Branch Chief at USDA. "As a Living Security client, we've seen first hand at USDA how immersive learning and gamification can positively reinforce cybersecurity concepts and make learning more fun and engaging. We knew this would be the perfect way to introduce cybersecurity training to our campers."
About 30 campers participated in Living Security's interactive CyberEscape Online module, the first completely remote, team-based cybersecurity training platform. Over the course of two hours, students walked through a number of common cyberthreat scenarios together, solving puzzles and identifying the best course of action when faced with phishing attacks, social engineering scams, and other suspicious activities. They were also educated on the importance of choosing strong passwords, and not reusing them across multiple accounts.
"Children are too often left out of the conversation when it comes to teaching proper cyber hygiene and the importance of protecting ourselves online. That's a huge mistake. Kids can easily fall victim to cybercrime while doing their homework on a laptop, texting and emailing friends, or using social media," said Ashley Rose, CEO at Living Security. "As a mom, this initiative with USDA is especially important to me. Nipping bad habits like picking weak passwords in the bud early will put the next generation ahead of the game as cybercriminals continue to get more savvy. We hope to partner on more opportunities like this in the future to teach people of all ages how to operate safely online."
As the summer wraps up and kids head back to school, here are some quick tips to talk to your own kids about cybersecurity:
Start the conversations early. Children are being introduced to tablets and phones younger than ever before, and by kindergarten they're often using them in school. Even young kids can be taught the basics of cyber threats and ways to mitigate them.
Stress the importance of safeguarding their identity online. The biggest hurdle to overcome is often getting children to pay attention to cybersecurity in the first place. Providing them with an understanding that identity theft can damage their reputation for years to come will help them to stop and think before they click on a suspicious link.
Lock down your household devices. Restrict levels of access on the internet for your kids devices and stress the importance of locking their devices when not in use. If you're not creating a password for them, educate them on the importance of choosing strong, 16-character passwords that are unique to every account.
Know when to raise a red flag. Make sure they know it's important to call attention to any suspicious activity that they come across on their laptops or devices so that necessary measures can be taken to secure their accounts.